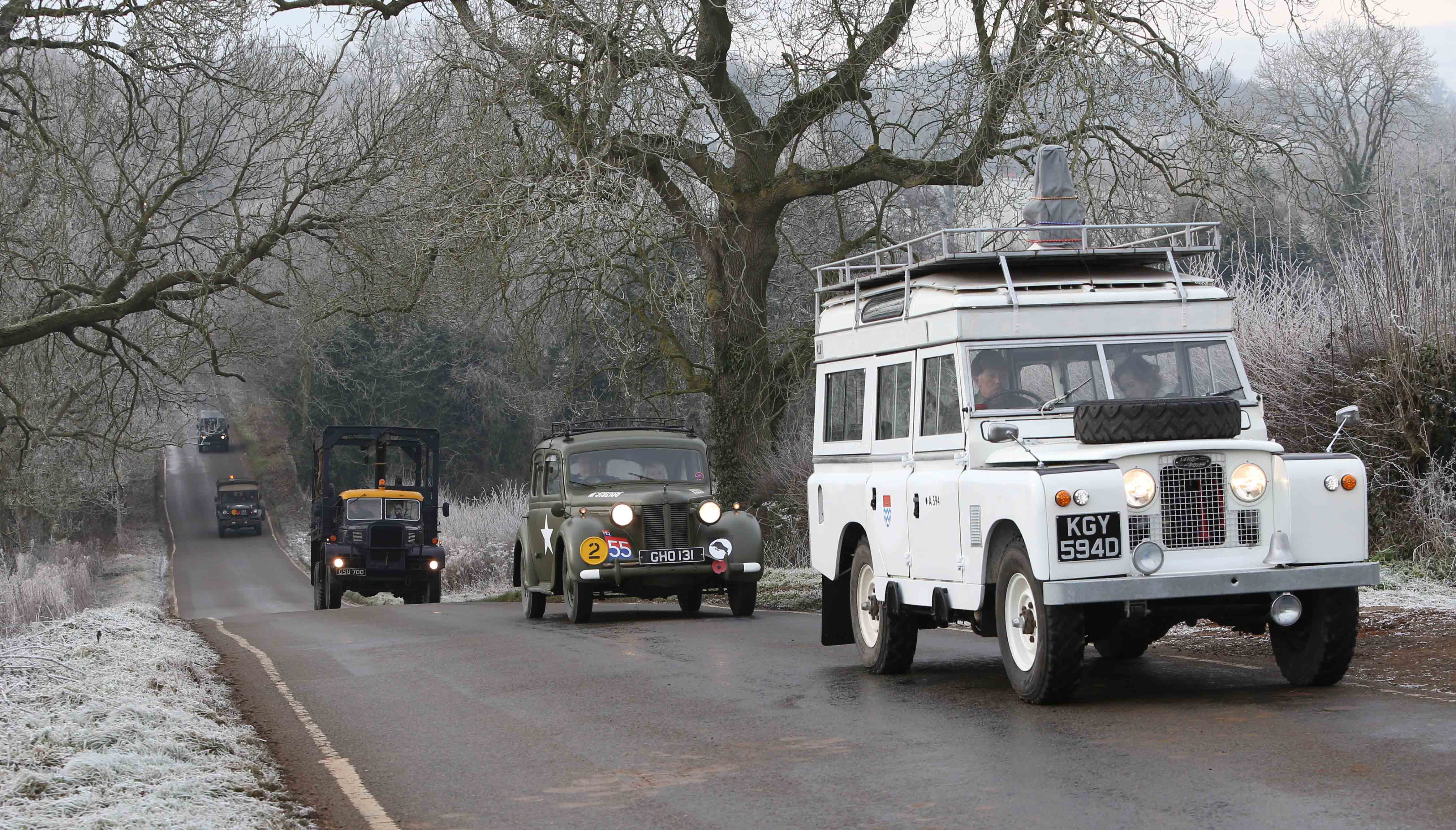 Sunday, January 22 saw the annual Roger's Road Run, a 37-mile trek through south-west Northamptonshire with the temperature not rising above freezing.
Roger Higgerson started with a minute's silence in honour of John Marchant before leading us off from Harpole in his white Land Rover Series 2a London Ambulance Service command vehicle. This was the last project of the much-missed Gordon Beale, who restored this very rare vehicle with a new chassis.
The 16-vehicle convoy consisted of four Jeeps, seven assorted Land Rovers, Austin 12, Dodge M37, Fordson WOT2, Austin K6 and a Chevrolet M1009. Once again we were joined by friends from the adjacent North Oxon and Cotswolds Area.
Photographers Kevin Lamberth and Vaughn Glynn positioned themselves along the route, which culminated in a Daventry pub. Their pictures can also be seen on our Facebook page.
Many thanks are due to Roger and his team for organising yet another successful road run.
Pictures by Kevin Lamberth
***********************************************************************************************************************************************************************
Vintage Stony, New Year's Day, 2023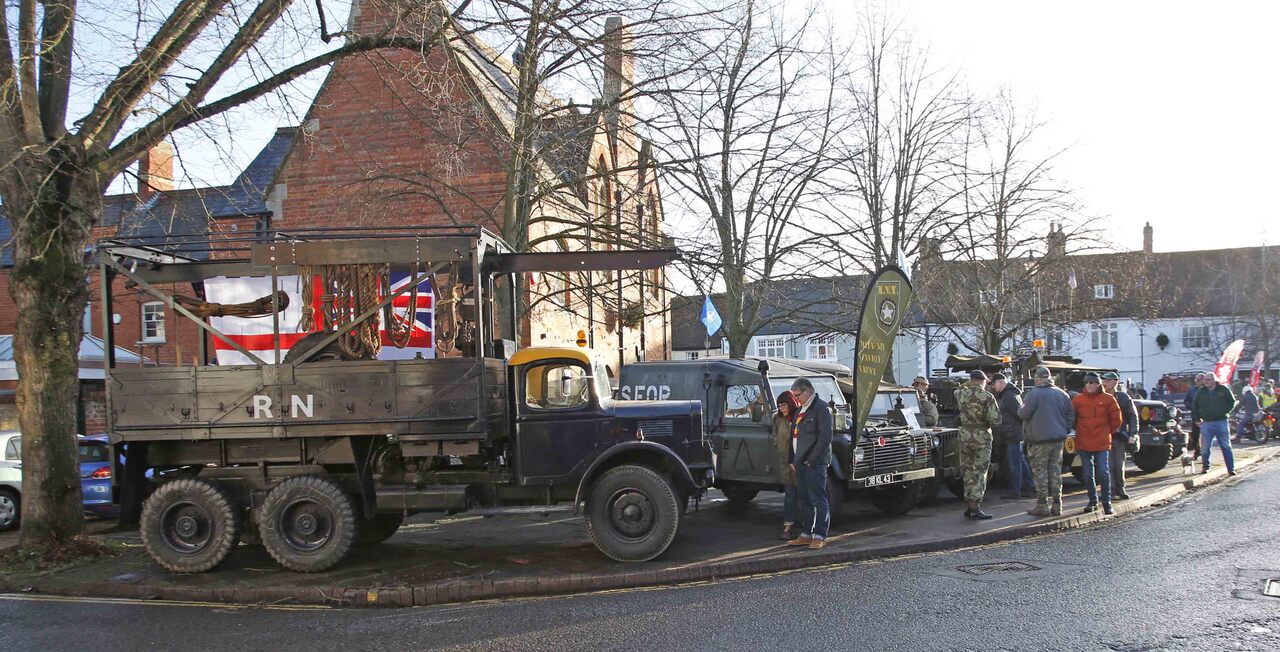 Pictures from the annual Vintage Stony car meet on New Year's Day, 2023, at Stony Stratford, Milton Keynes, are by MVTSEM photographer Kevin Lamberth and Vaughn Glynn.
*******************************************************************************************************************************************************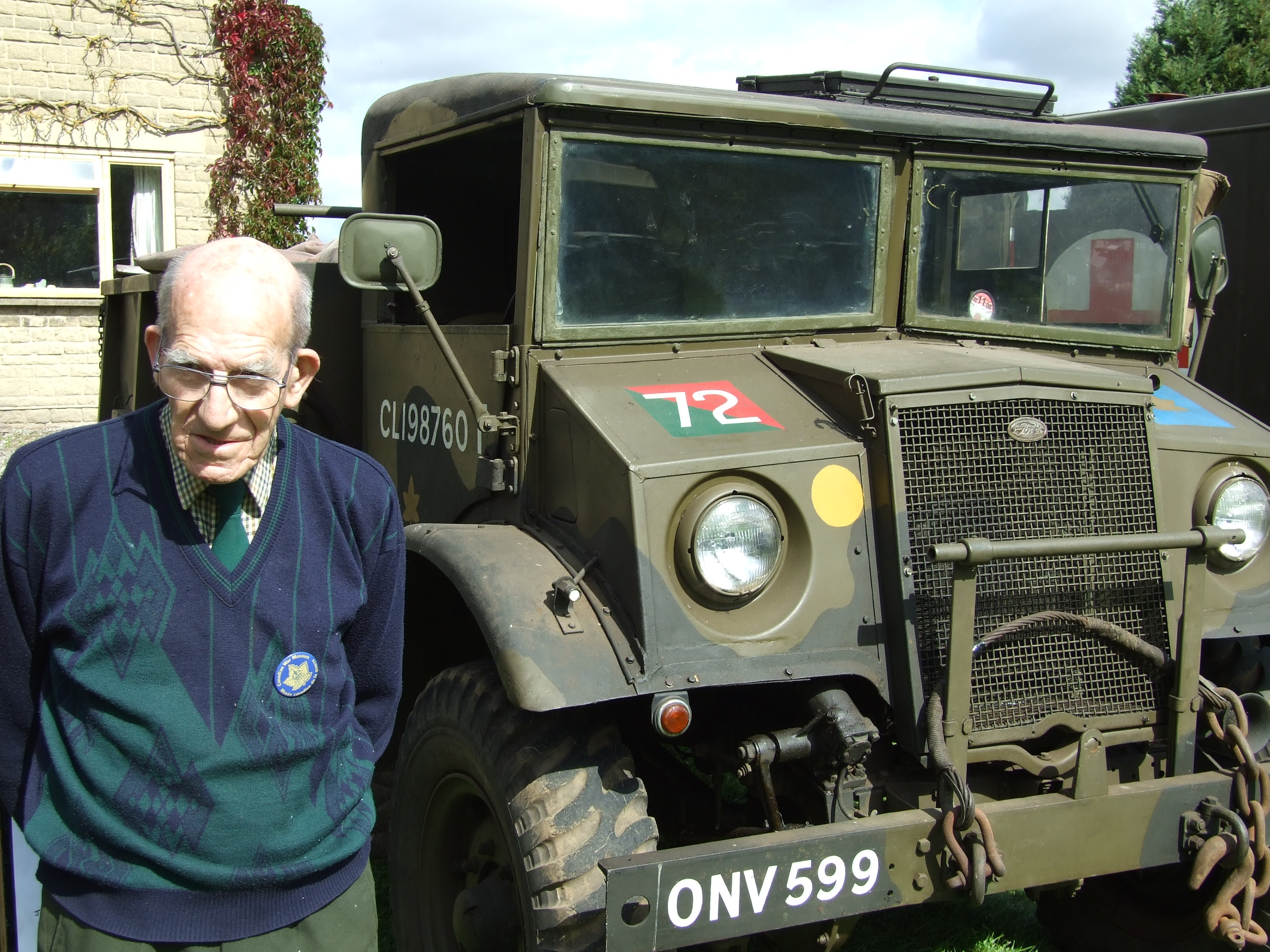 John Marchant "the grandfather of the MV preservation movement", died aged 95 on Christmas Eve 2022 and many tributes to him have been made on social media.
John was a founder-member of the both the MVCG (forerunner of the MVT) and the South East Midlands Area. His MVT membership number was 167.
MVT president Richard Beddall said: "This is very sad news. John was very knowledgeable and was always interesting to chat to. RIP."
Neill Elliott, SEM Area Secretary said: "John was always very generous with his support of SEM. I remember just after I had joined the MVT he invited our area over to his place. In addition to looking around his wonderful collection, we were able to do a bit of off-roading in one of his fields where he joined us driving his Universal Carrier, which I know he was particularly fond of. He will be sadly missed, not only as a member of SEM but as one of stalwarts that started the whole ethos of collecting military vehicles."
CoM member Tim Hawkes said: "John was the longest serving member in our area having formed part of the group of founders of the MVT. His passion and knowledge for CMP vehicles made him a global hub of knowledge and parts. He also owned and showed many himself. John used to make his annual pilgrimage to Stoneleigh and ran a small stall of eclectic items drawn from the back of his many sheds. John leaves a legacy in the MV world many of us will not forget."
SEM founder Steve Gascoigne added: "I was chatting to John on the phone only a week or two ago, and he seemed the same affable chap he always was. I remember him from the early MVCG tours and saw him frequently as I lived about 15 miles away for 30 years."
Our condolences go to John's family.
The funeral on January 17 was at St John the Evangelist Church, Wicken, where John was Church Warden for many years. The MVT was represented by local members, vice-presidents and members of CoM – and a GMC CCKW353, Austin K6, and Land Rovers 109 and 110 parked outside the church.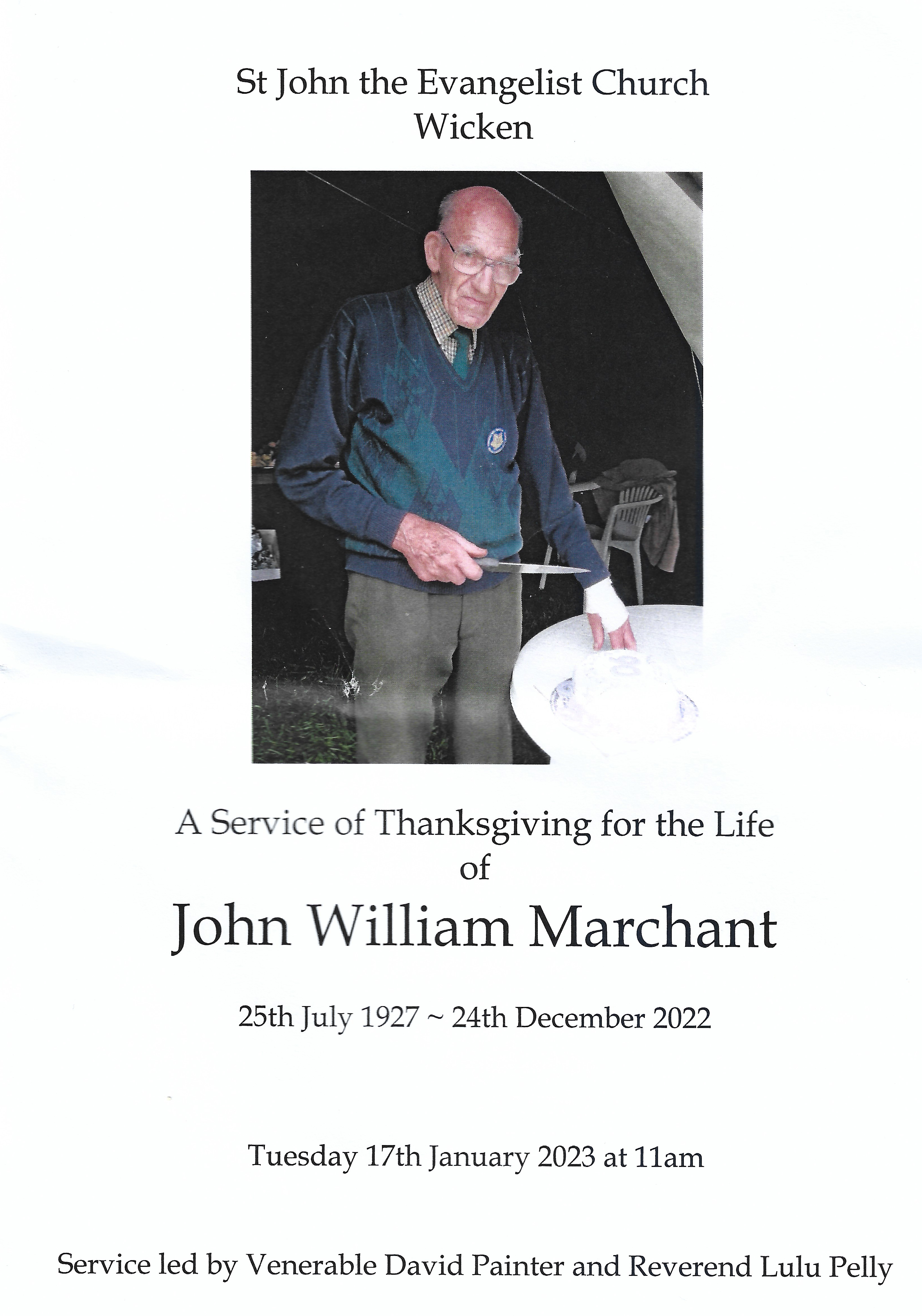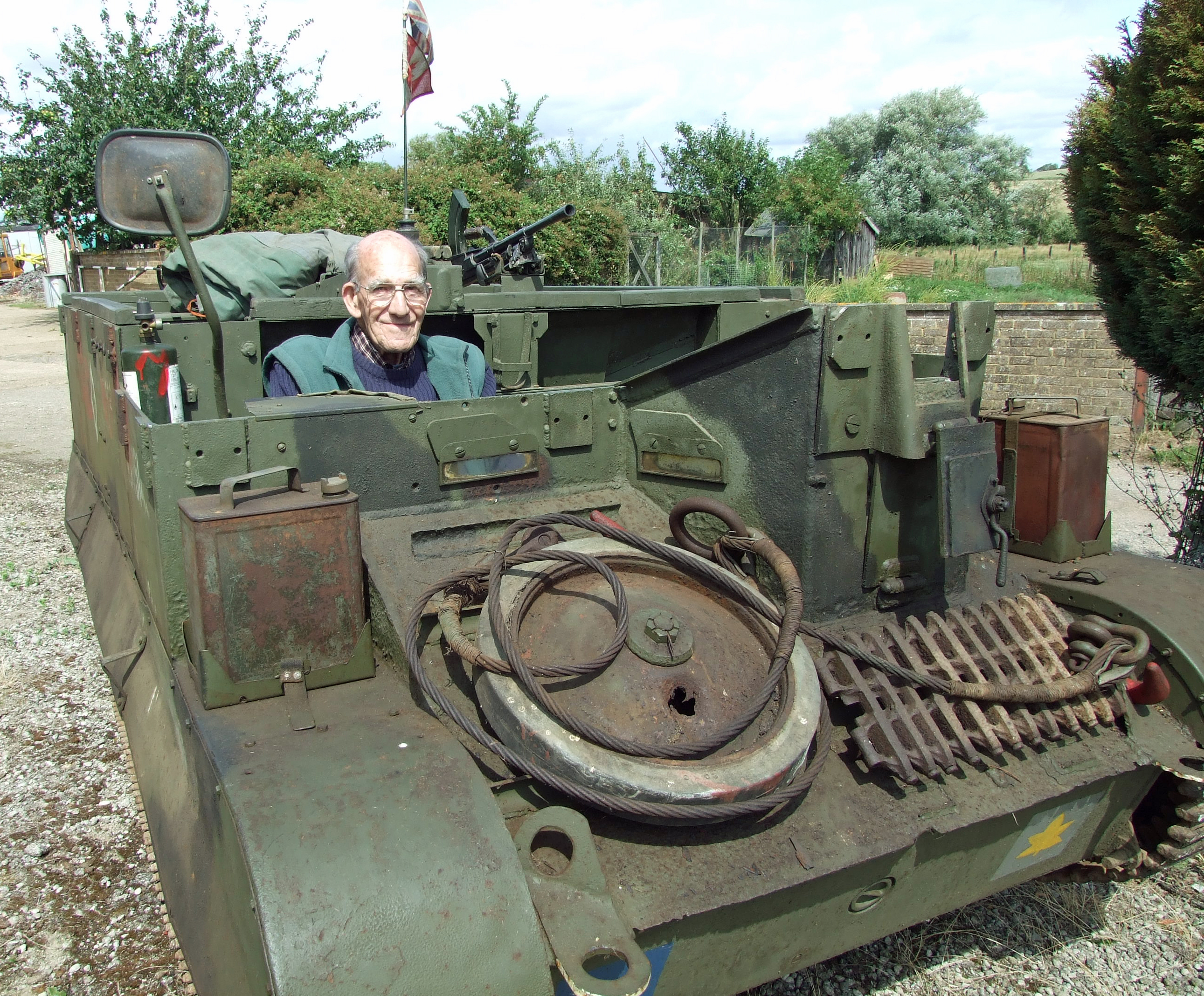 Peter Clarke, another SEM founder-member, has known John for 50 years and interviewed him for Windscreen magazine on the occasion of his 90th birthday party in July, 2017 (when he demonstrated his Bren Gun Carrier for us). The report is repeated in part below.

Can you imagine a time when Bren Gun Carriers could be bought for just £15 and a running Jeep for £70? A time when redundant RAF airfields were full of thousands upon thousands of World War Two vehicles?
This was when contractor and farmer John Marchant first began to buy, restore and use green machines, recently let go by the Armed Services.
John has owned an astonishing 169 MVs and is one of the earliest members of the Military Vehicle Conservation Group, later the Military Vehicle Trust, joining in January, 1974, with a membership number of 167.
He was born in Wicken, South Northants, just a few miles from his present home in Old Stratford, on the borders of Milton Keynes. The first vehicle he acquired, in 1947 and for £15, was a Loyd Carrier.
"We used it for ploughing and harrowing," said John, "but it was fairly useless. It steered by using the brakes and the engine wasn't powerful enough."
A few months later he bought a 1942 Canadian Ford F60S three-tonner, a vehicle which incredibly he still owns and drives – surely the longest partnership of owner and MV in the world. This sparked a lifelong passion for Canadian Military Pattern (CMP) Ford and Chevrolet vehicles and led to him setting up the Canadian Ex-Military Vehicle Register.
His enthusiasm for all things Canadian led to him being invited as a VIP to the College Militaire Royal in St Jean, Quebec in 1988.
John was one of those MV pioneers who went to Normandy on a Peter Grey-organised tour in 1974. He took a Daimler Armoured Car but only made it as far as the south coast owing to a gearbox failure. "We couldn't fix it in time to catch the ferry but offers of help came from everyone and we soon had all our baggage stowed in corners of other people's vehicles and a lift to France arranged for us, all from people we had never met before, which shows the great comradeship and help which still exists today."
The breakdown did not put John off foreign tours and he has since taken his vehicles to Normandy and Arnhem. Other vehicles he has owned include the £70 Jeep ("it was running when I bought it but when I collected it I found someone had stolen the half-shafts"), Stuart tank, Vickers Vigor armoured bulldozer, armoured cars, carriers and a staggering 64 CMPs.

John, who for many years was the MVCG/MVT chief judge, had a retirement sale a few years ago but, even at the age of 90, still keeps and drives his beloved 1942 F60S, a 1942 Chevrolet HUP and a 1944 T6 Carrier.
*********************************************************************************************************************************************************************************************
Operation Market Harborough
Next year's show at Market Harborough on Saturday-Sunday, August 5-6, 2023, has a new name – Operation Market Harborough – and Drew Palmer, area secretary of the Charnwood Area, wants to raise the profile of the MVT. The SEM Area is onboard with his plans which is to create one large MVT display and get as many groups involved as possible.
So far Charnwood, Birmingham, North Staffs and SEM are involved. It would be all the groups together but with their respective friends, so not all muddled up. So far 22 vehicle owners have shown interest but I'm sure many more will also want to join us.
Drew is getting some new general MVT banners made (ie, without a particular area on them) so it will look like a large national-type display. Other plans include our 12x12 tent and hospitality area where you could meet and safely leave your kit while you go shopping etc and non-stop tea/coffee and biscuits.
If you are interested in joining us, please let me know ASAP so Drew can have some idea of numbers. Email me at petegerry@btinternet or PM me via Facebook. You will still have to book in for the show in the usual way, using the form below (cut and paste it to your email) and send it to Mick Crook at m.crook@ntlworld.com
Operation Market Harborough
4th, 5th & 6th August 2023
Harborough Showground, Gallow Field Road, Market Harborough, Leics. LE16 7QB
(No correspondence to above address)
Vintage Civilian & Military Vehicle Registration Form
| | |
| --- | --- |
| Name | |
| Contact Tel No | |
| Email | |
| Address for all Correspondence | |
Vehicle Details - Please note that all WWII & vintage civilian vehicles registered for the WWII parade should have been manufactured prior to 1946.We also welcome Cold war and Post-War military vehicles, any questions please message us on 07429 964480
Manufacturer

Model Civilian or Military?

Year

Registration No

Would you like to take part in the arena display?

YES or NO

Free Camping Required? (In adjacent camping area)

YES or NO

Attending – Which days?

Fri Sat Sun

All Three
If you require further information please message us on 07429 964480. Send us an email m.crook@ntlworld.com
Once your application has been approved, an e-mail will be sent to you and passes will be available at the gate on arrival.
If you don't see an email from us please check your spam folder or call/message us
2 free event entry tickets per vehicle. Extra tickets must be paid for.
Please email forms back to us at
m.crook@ntlworld.com, Or post back to Operation Market Harborough, 16 Willow Crescent, Market Harborough, Leics, LE16 9DT.
We close all bookings on the 21st July 2023, and all applications must be received by this date.
The management reserve the right to refuse admission, we accept no liability for property left onsite
****************************************************************************************************************************************************************
Operation Poppy 2022, totals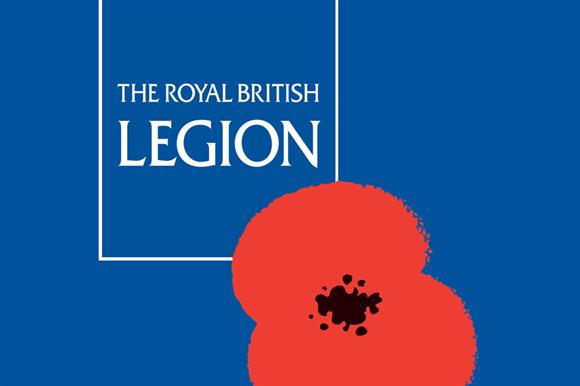 Here are the totals raised for the Royal British Legion Poppy Appeal at the three Northampton venues:
Dobbies, Wootton £650.42.
Dobbies, Harlestone Heath, £964.42.

Riverside 05/11 £518.10, 12/11 £500.63, Total £1,018.73.
Overall total raised by the MVT SEM teams in Northampton: £2,633.57.
Simon Stacey, the Poppy Appeal Organiser, is overwhelmed with this result and sends his thanks and appreciation. He has also extended an invitation to any MVT member that participated in the Poppy Appeal to St Crispin Social Club on 8th December. There will be food laid on so Kevin Lamberth will need names of those attending via Facebook PM by Thursday, 24th November.
If individuals want to know what they have collected send Kevin a PM via the MVTSEM Facebook.
Many thanks for Kevin for organising the poppy supplies and, of course, well done and thanks to all those who helped.
Weldon branch of the RBL Poppy Appeal organiser and SEM member Tim Webster has thanked all members of the MVT for their support and attendance at Weldon Remembrance Day service and fund-raising events . "With your help the branch raised over £9,300 for Poppy Appeal. THANK YOU!"

Kevin Lamberth adds: "We as a group were invited to a social gathering by Simon Stacey of the Duston Branch RBL Poppy Appeal, Attendees were Stephen Myles and partner Janice, John Green, Guy Voice and myself. The branch was informed that we had raised a considerable amount of money and recognition was given to the MVTSEM group for raising £3,000 in Northampton. A round of applause was also given. They look forward to our continuing support next year."
Operation Poppy 2022, Day 3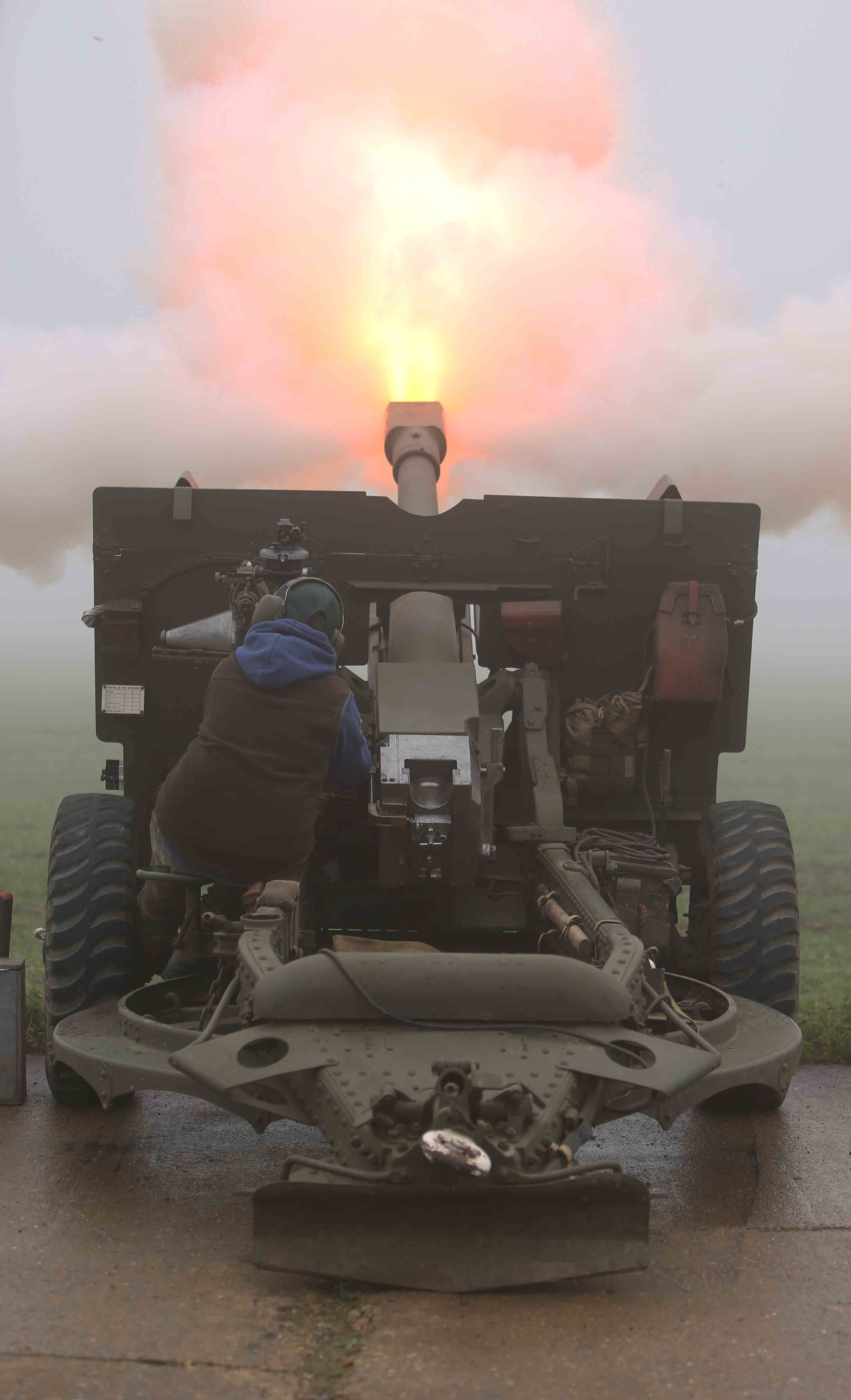 Remembrance Day service at Weldon with a wreath laid on behalf of the MVT by John Underwood, followed by a run to Deenethorpe airfield where a 25 pounder field gun was fired.
Pictures by Kevin Lamberth
Operation Poppy 2022, Day 2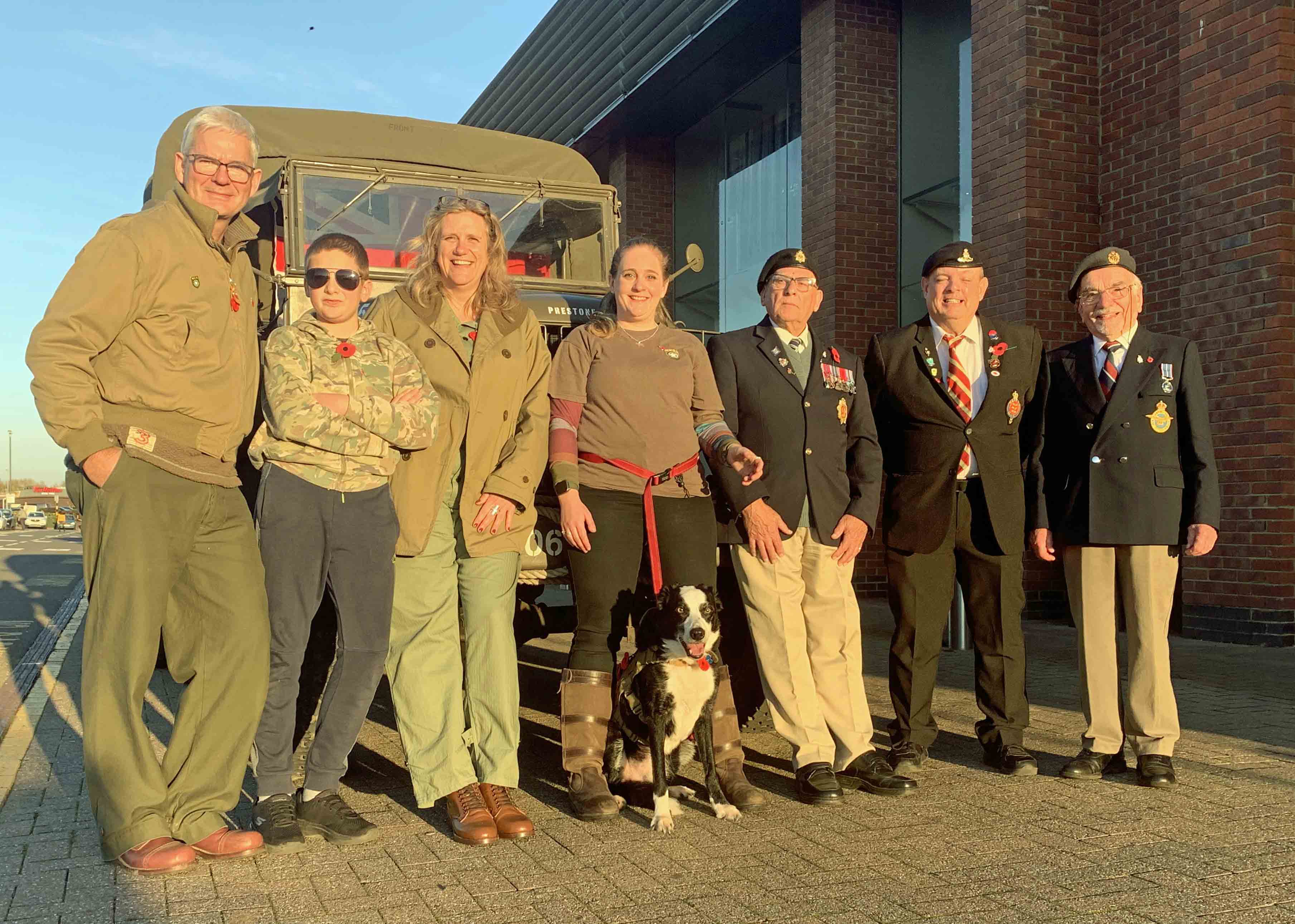 Collecting at Riverside, a very successful day with our three veterans getting very engaged with the general public.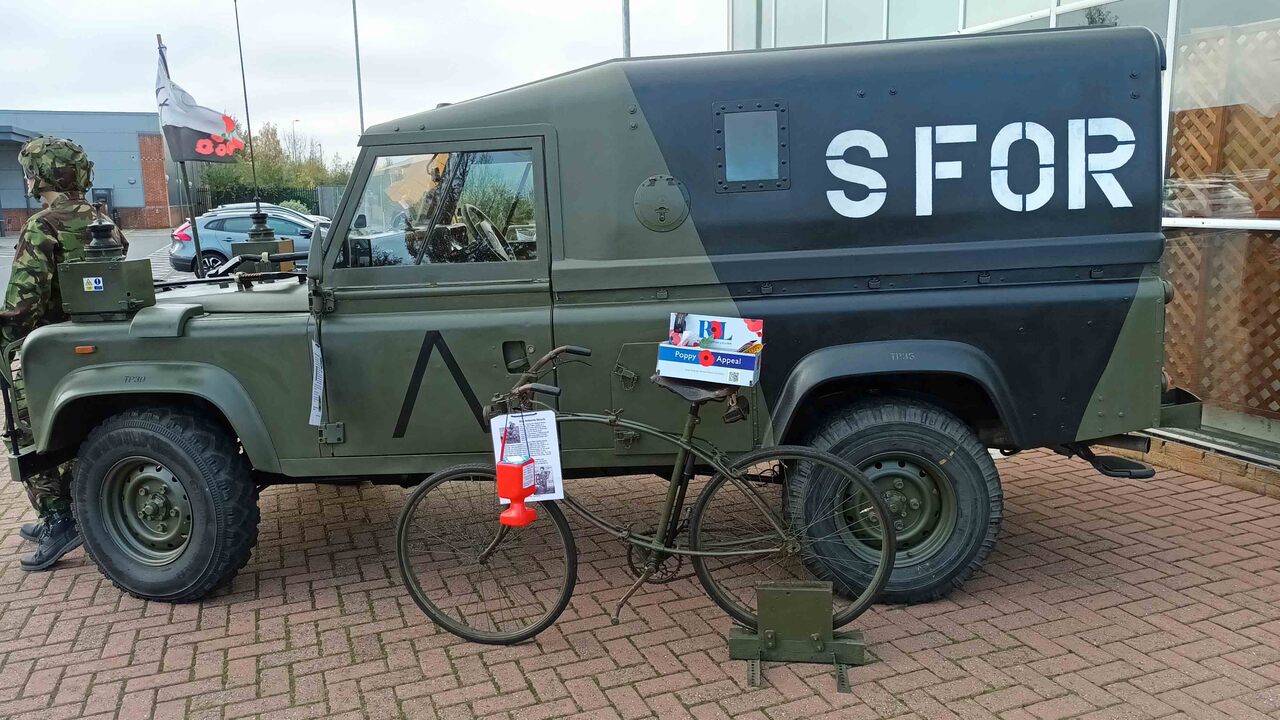 Peter Clarke's Land Rover 110 and BSA Parabike at Dobbies Garden Centre, Wootton.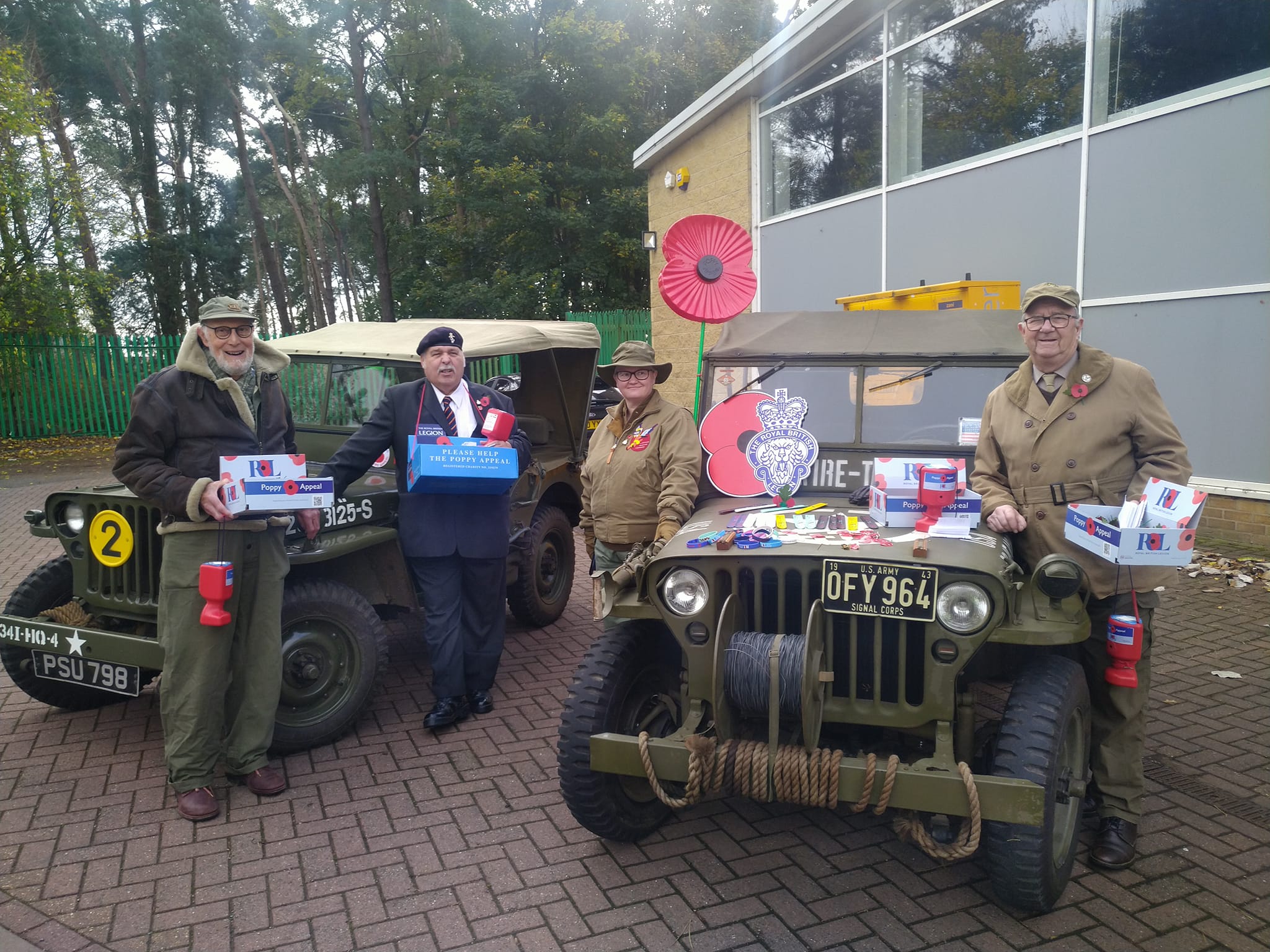 Kevin Lamberth , Katie Brown, Howard Aran, Tim Cross and Mike York collected at Northampton Harlestone Firs Garden.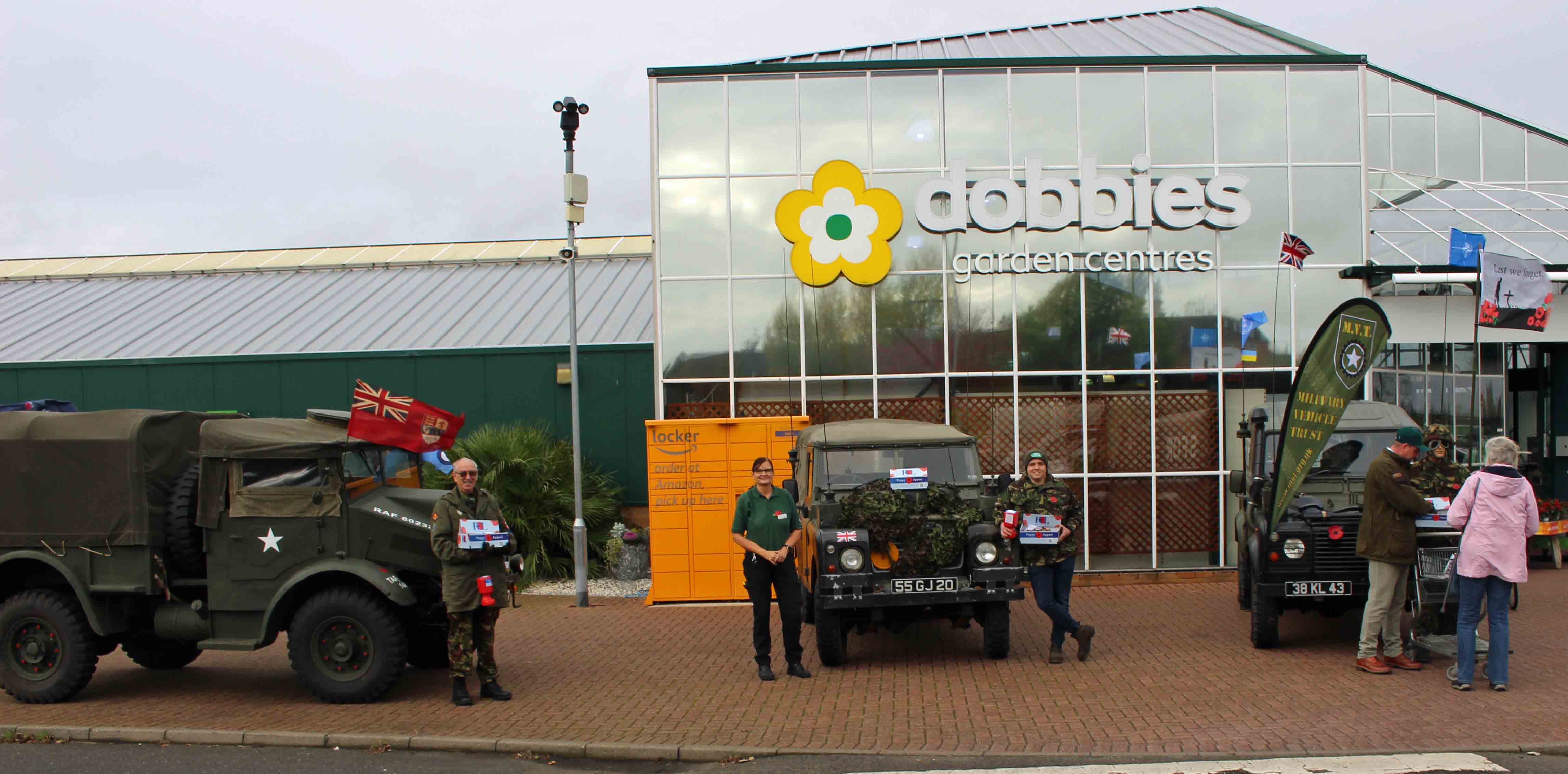 Selling Poppies at Dobbies Garden Centre, Wootton, Northampton. Picture: Vaughn Glynn
Alison, garden centre manager, is pictured with, from left, Peter Clarke, Sean Crompton, and Will Needham, who was busy selling poppies when Vaughn took the photo!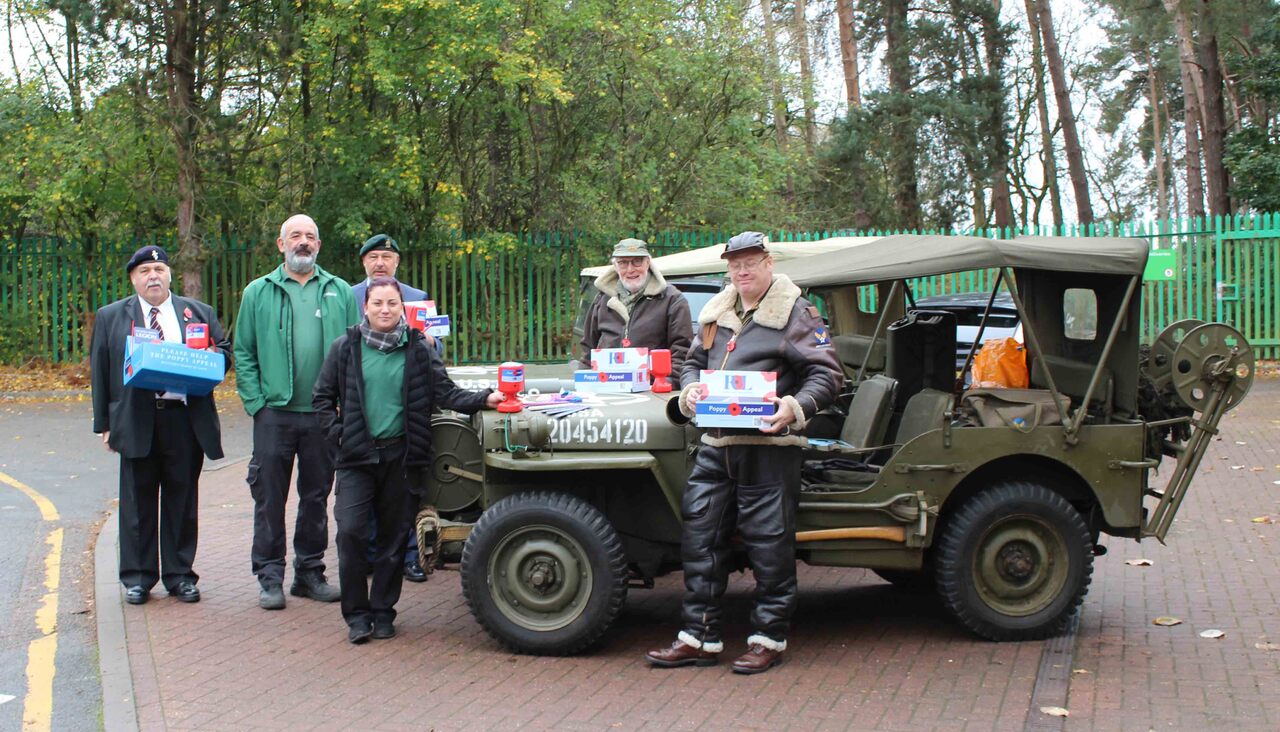 Selling Poppies at Dobbies Garden Centre, Harlestone Heath, Northampton. Picture: Vaughn Glynn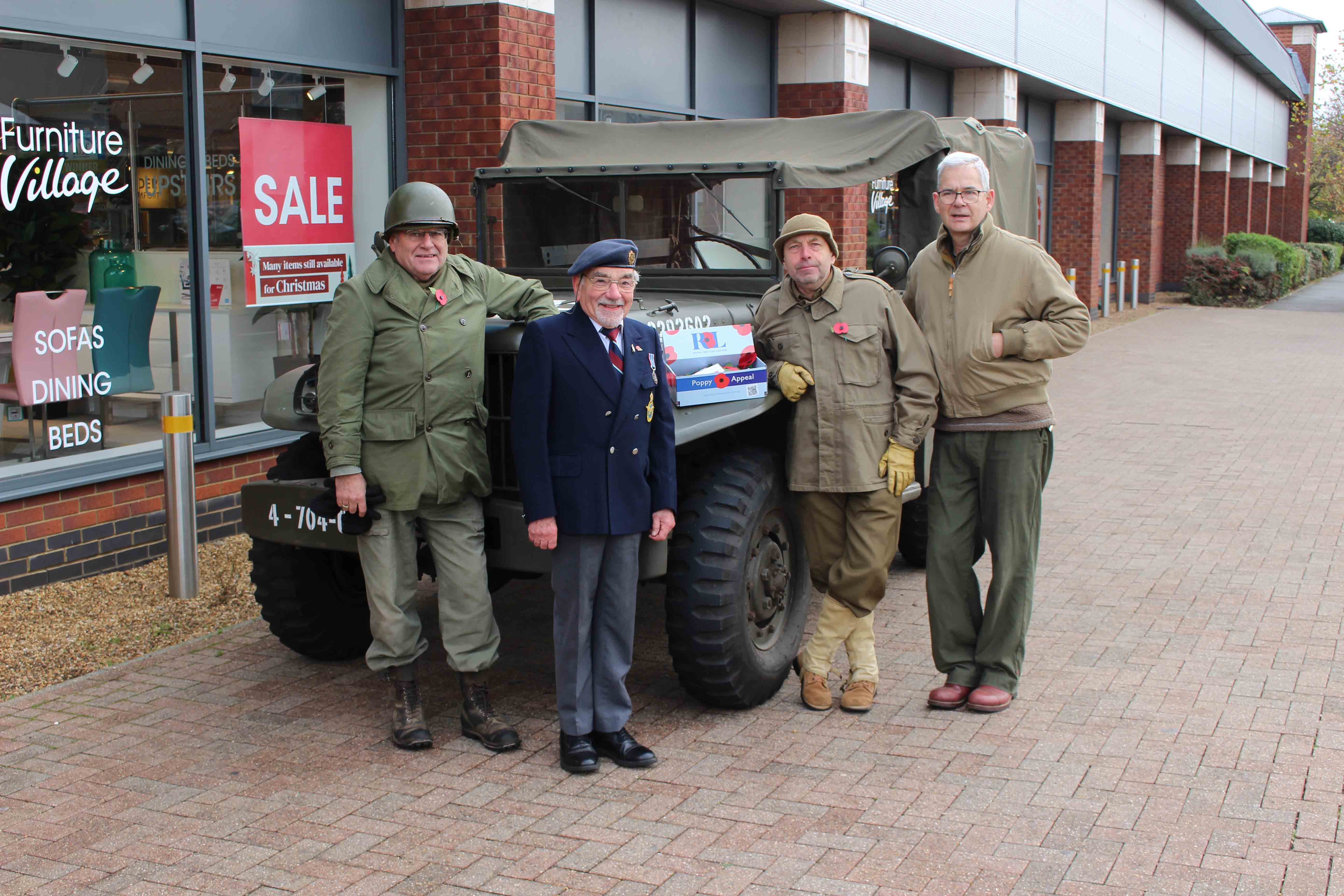 Selling Poppies at Riverside retail park, Northampton. Picture: Vaughn Glynn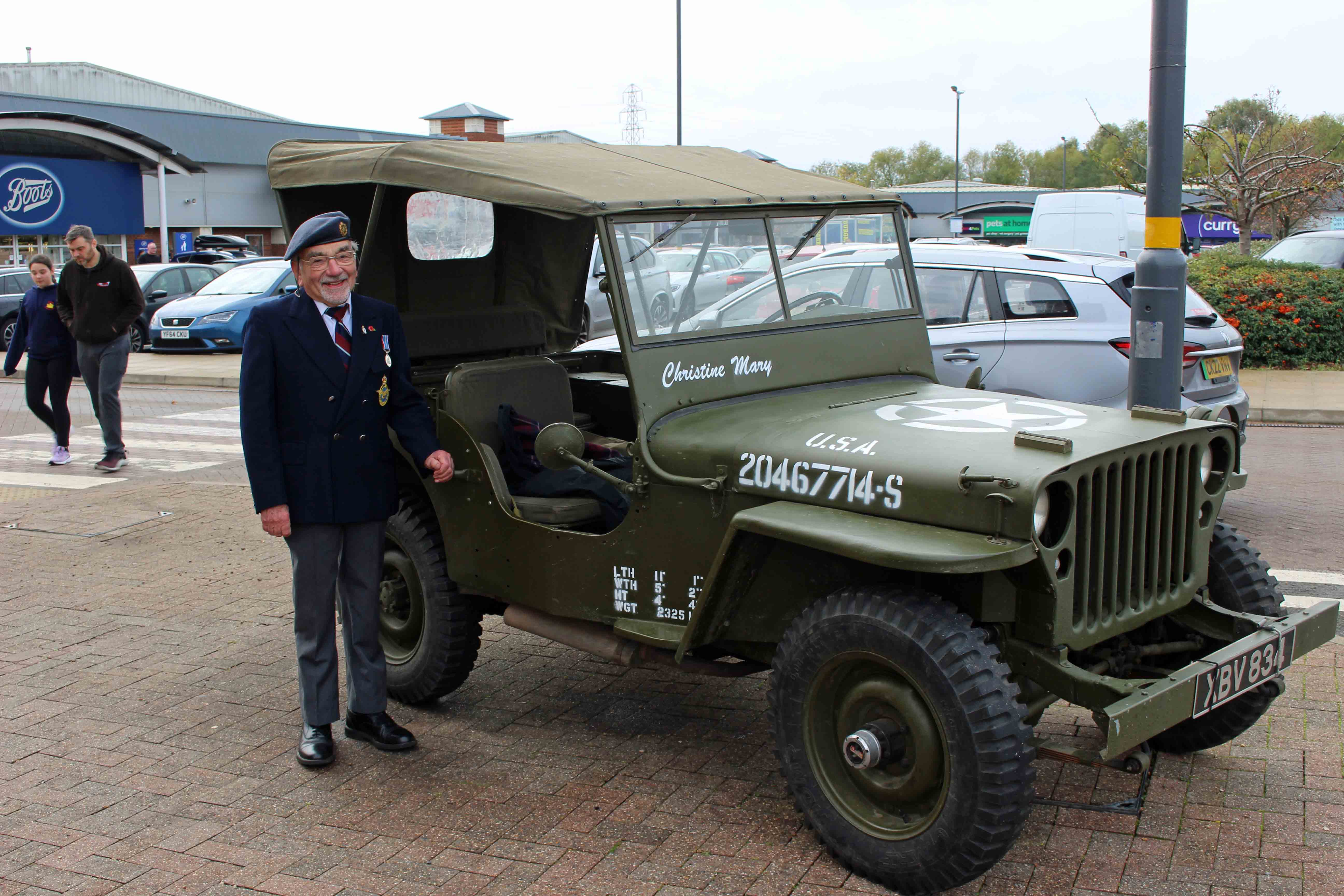 Selling Poppies at Riverside retail park, Northampton. Picture: Vaughn Glynn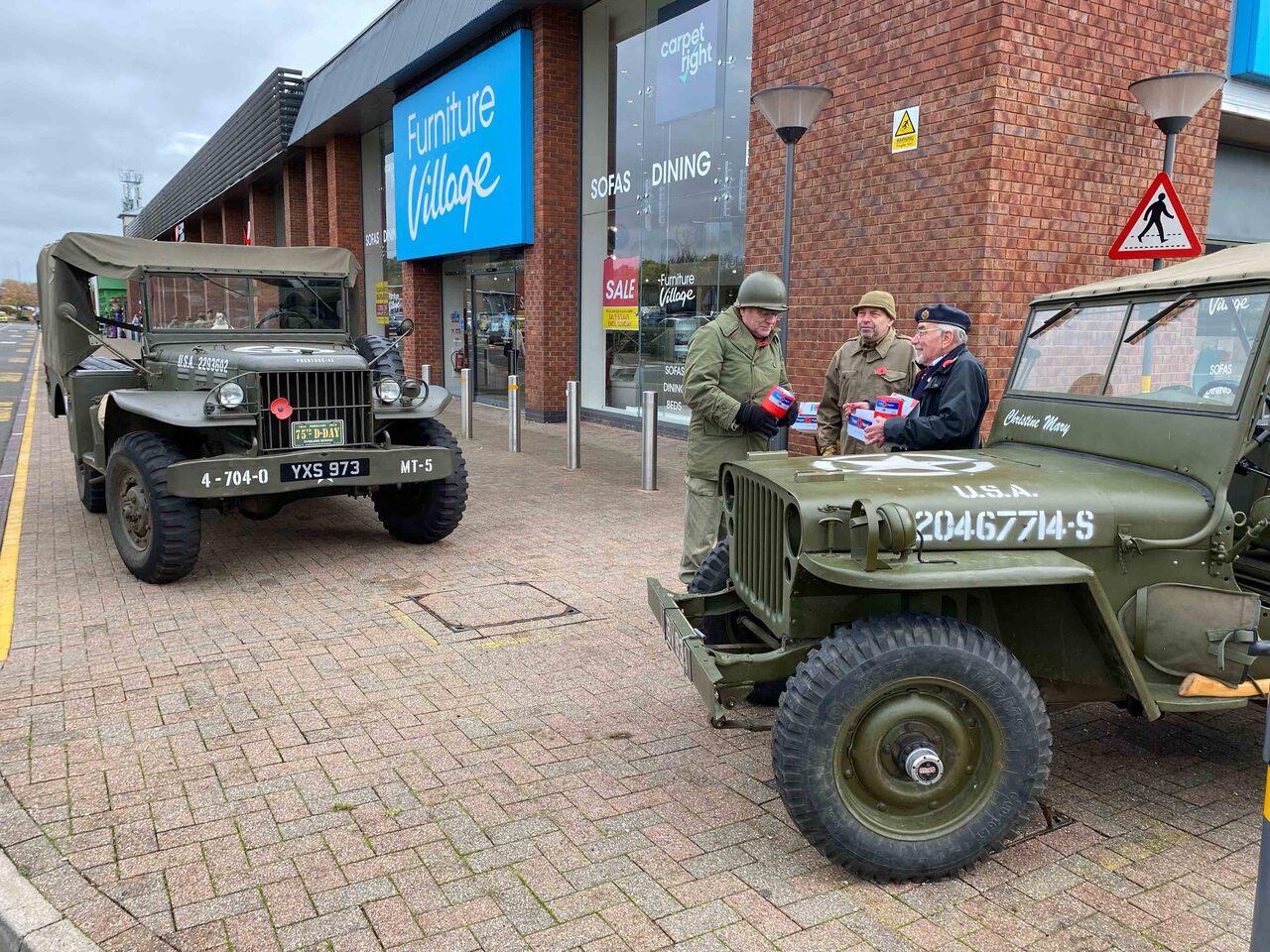 Selling Poppies at Riverside retail park, Northampton. Picture: Neill Elliott
Neill writes: "Although we only ended up with two vehicles, we had six people collecting (five MVT plus veteran friend of Stephen Myles). Unfortunately, Richard Hall's Jeep starter motor broke on Saturday morning but he still came along in his civvy vehicle. It was really good having that number of people as we were able to really engage with the public and nobody got past John, our veteran, without putting some money in the tin! We had loads of paper money and also managed a few electronic donations via the QR code on the front of the collection boxes. Those present, Brian Rive, Richard Hall, Mike Brennan, Stephen Myles, John (veteran friend of Stephen) and myself."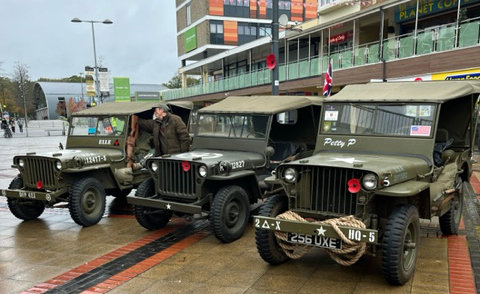 Selling Poppies at Corby. Picture: Stephen Smith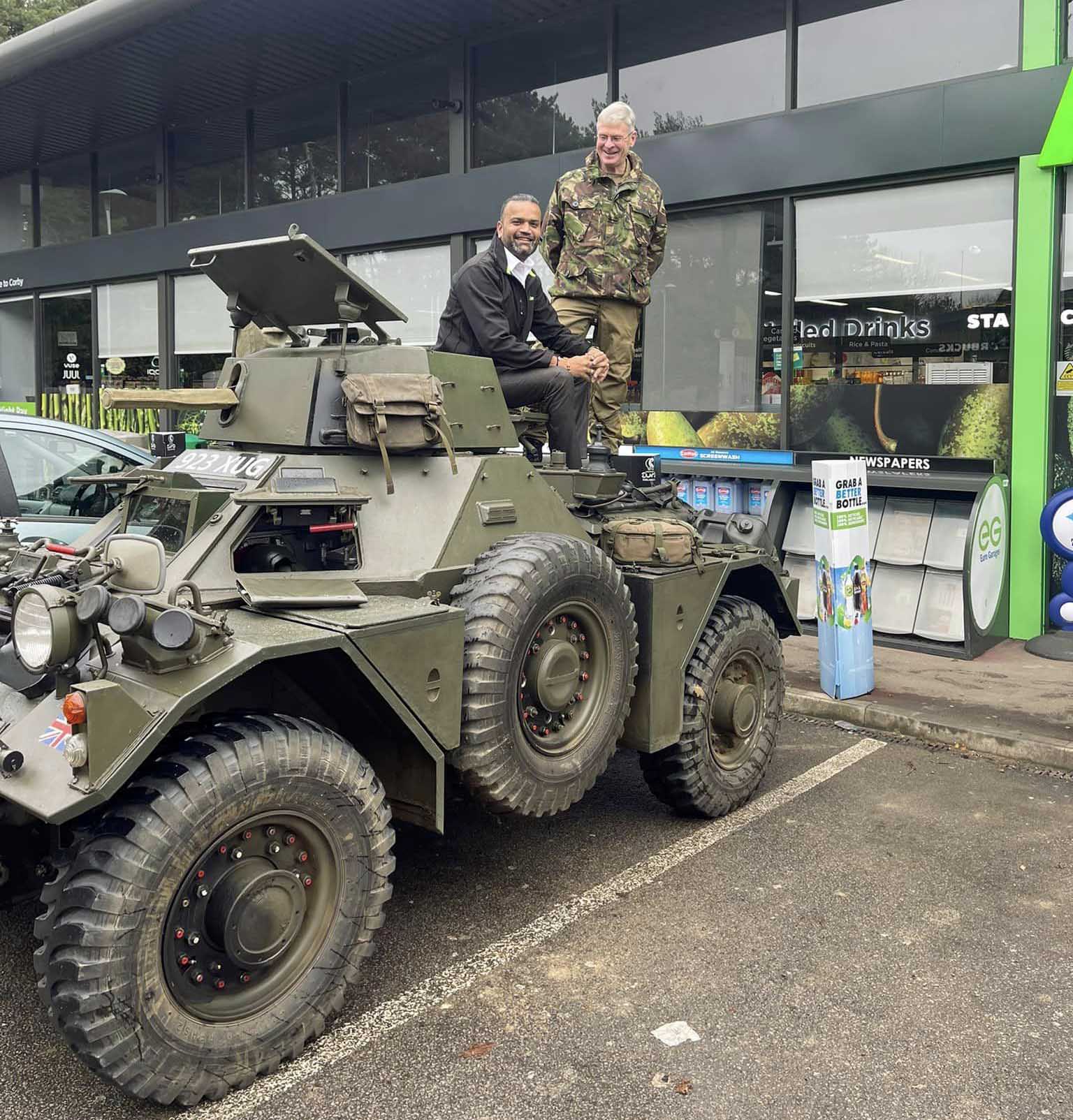 Selling Poppies at Weldon. Picture: Tim Webster
Selling Poppies at Weldon. Picture: Tim Webster
************************************************************************************************************************************************************
Miracle escapes as B-17 crashes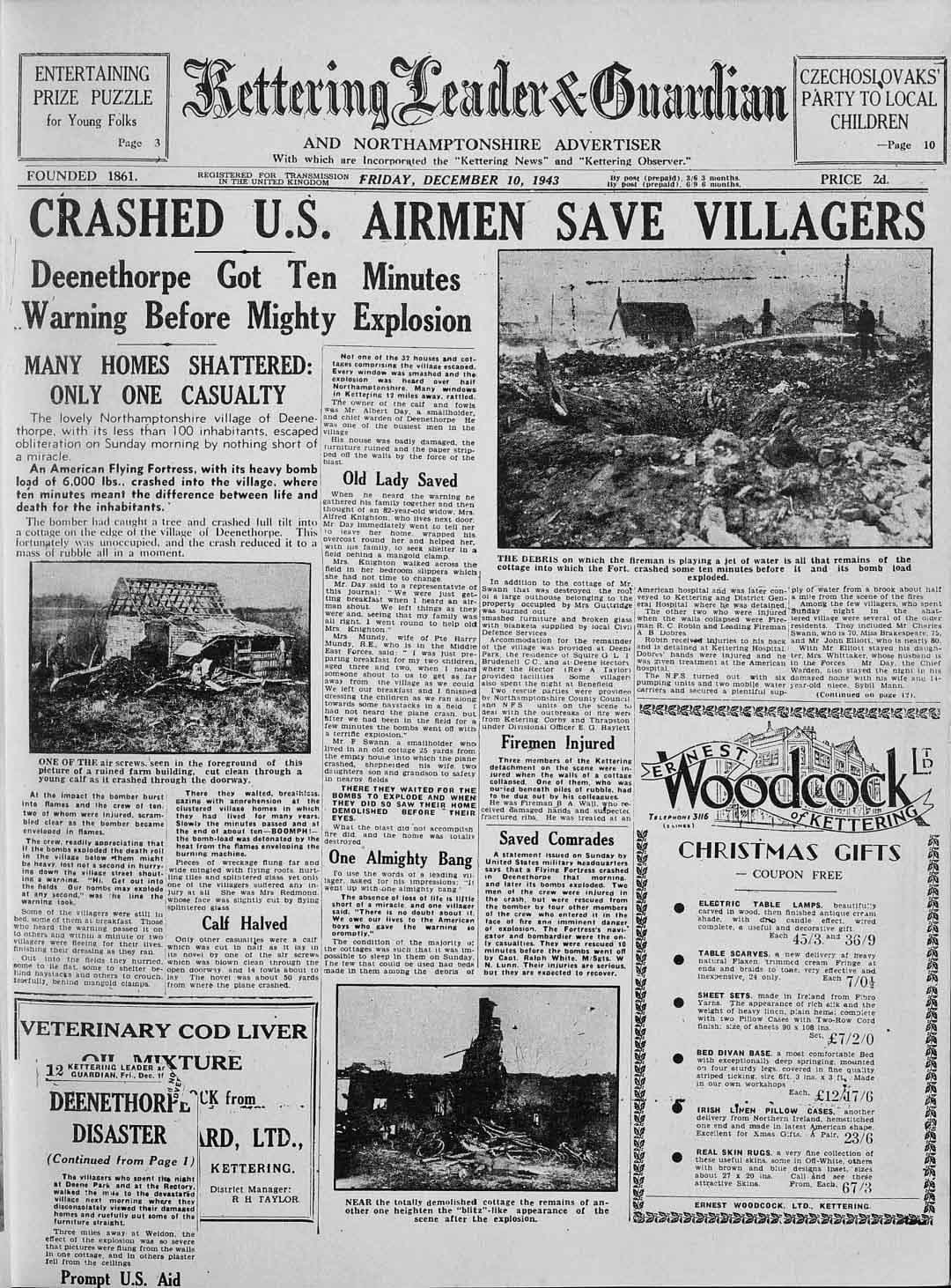 Ian Clayton provided this dramatic newspaper report of a Flying Fortress crash at Deenethorpe in 1943. The event is to be commemorated next year and we have been invited to take part. Watch this space!

Aviation Safety Network reported: The B-17 damaged beyond repair was the B-17G 42-39825 "ZENOBIA – EL ELEPHANTA" of the 613th BS, 401st BG, piloted by 1st Lt. Walter B Keith. While taking off from Deenethorpe airfield for a raid on a Paris airfield (it was the 3rd mission of the 401st BG) it was caught in the preceding aircraft's wing tip vortices. Depending of the sources, it stalled or failed to lift off the runway. It careered across a few feilds before skidding through a farmyard of the village of Deenethorpe and coming to rest against an empty cottage. The uninjured crew vacated the burning aircraft and warned the villagers of an impending explosion. Fire crews and colleagues rushed to the scene, and the two remaining injured crewmen were safely pulled out. Emergency responders evacuated all nearby civilians, thus no one was injured when the aircraft's bomb load (12 x 500 lb bombs) exploded 20 minutes later, blasting the aircraft and the nearby fire tender to pieces and destroying or severely damaging most of the buildings in the village. The explosion was so enormous, it was heard nine miles away.
Crew:
2nd Lt Lt. Walter B. Keith (pilot),
2nd Lt Wardlaw M Hammond (co-pilot),
2nd Lt Carl T Floto (navigator),
2nd Lt John J King (bombardier),
T/Sgt William D Woodward (engineer/top turret gunner),
T/Sgt Benjamin Z Musser (radio operator),
Pvt Walden D Cohen (ball turret gunner),
Pvt Harold J Kelsen (right waist gunner),
S/Sgt David N Hadsell (left waist gunner),
S/Sgt Robert V Kerr (tail gunner). T
he navigator and the bombardier were both in the aircraft nose and were seriously injured, spending some time in hospital. Hadsell had a mild knee injury.
Graham Bratley adds: "At least two of the crew were badly injured and had to be cut out of the aircraft before it exploded after having caught fire.
The alarm for the villagers was implemented mainly by the Provost Marshall team who got a commendation for their prompt action from Colonel Hal Bowman, the CO of the 401st Bomb Group. The villagers received a quantity of oranges as a goodwill gesture from the Group which were well received."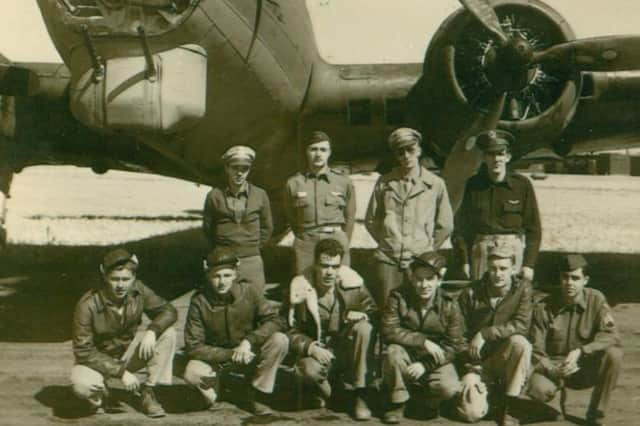 Picture above courtesy of the Northants Telegraph. The crew of the ill-fated aircraft. Standing, from left: Navigator Lt. C.T. Floto; Bombardier Lt. J.B. King; Co-Pilot Lt. W.M. Hammond and Pilot Lt W.B. Keith. Kneeling from left: Waist Gunner Sgt. B.B. Besselieu; Waist Gunner Sgt. H.J. Kelsen; Tail Gunner Sgt. R.V. Kerr; Ball Turret Gunner Sgt. W.D. Cohen; Radio Operator S/Sgt. B.Z. Musser and Flight Engineer T/Sgt. W.D. Woodward.

*****************************************************************************************************************************************************************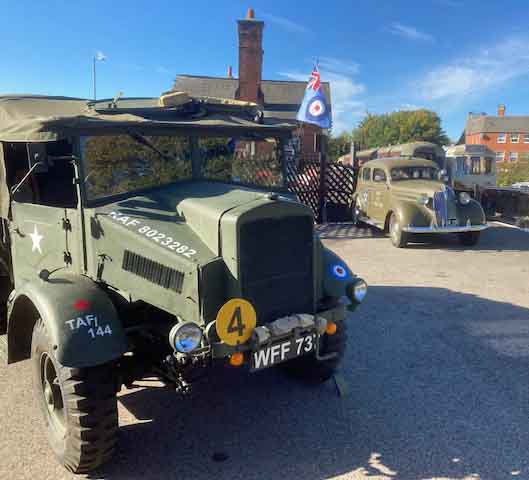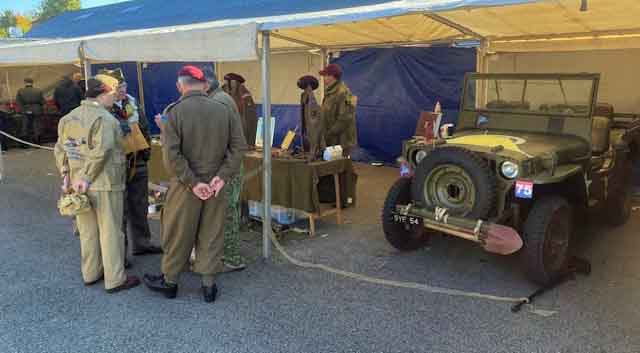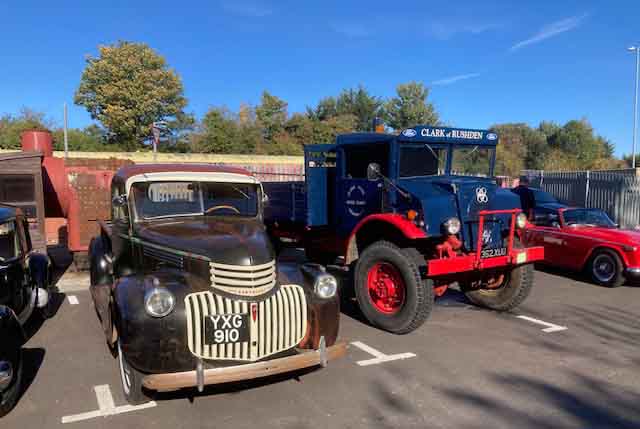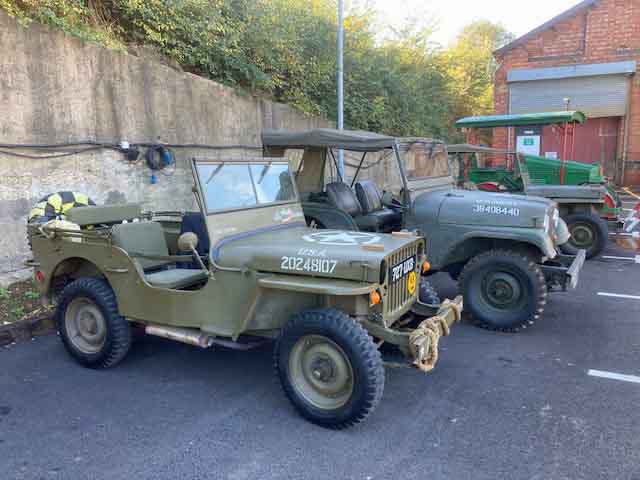 ****************************************************************************************************************************************************************
Bletchley Park 40s Weekend
Pictures by Kevin Lamberth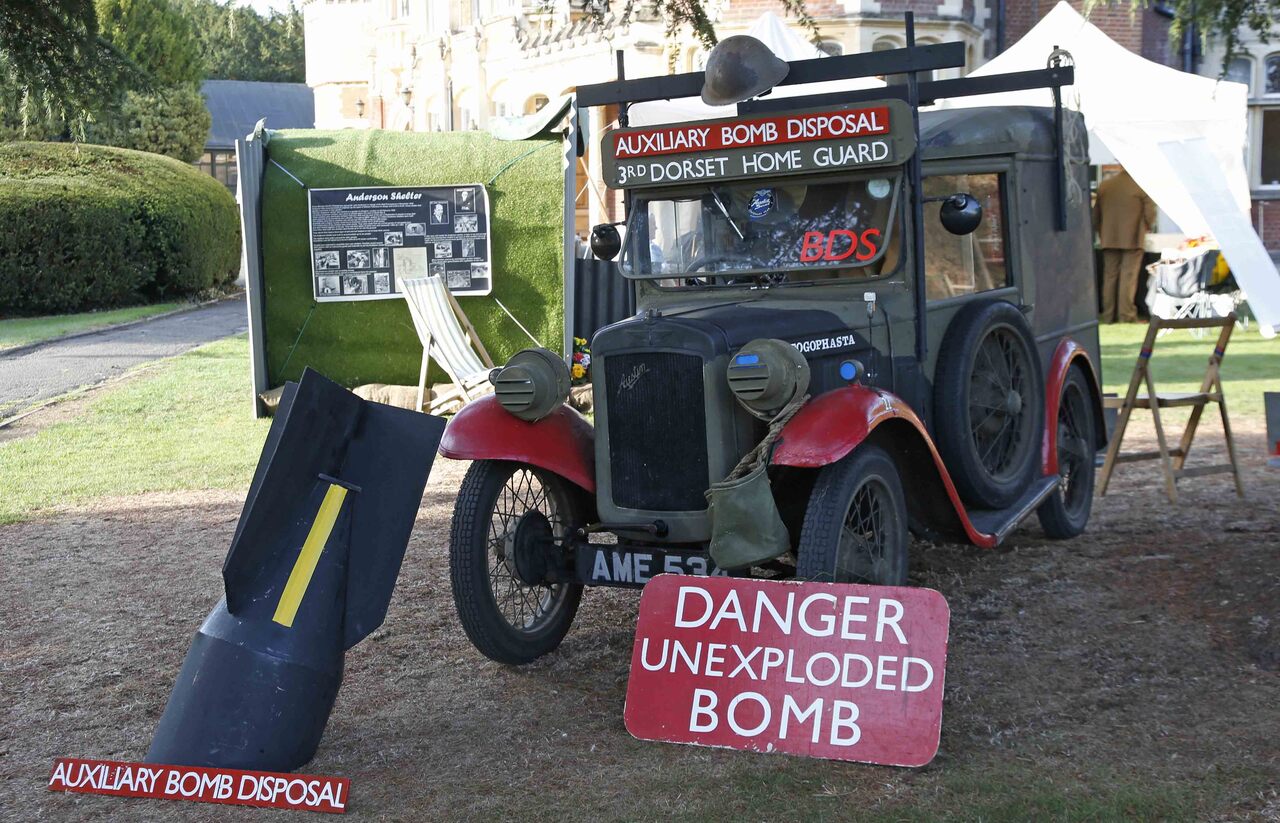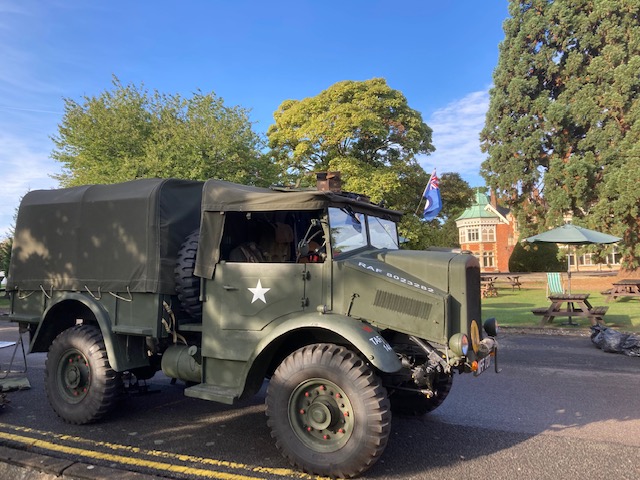 BP in the early 1990s with the late Gordon Beale clearing the guttering on the MT section sheds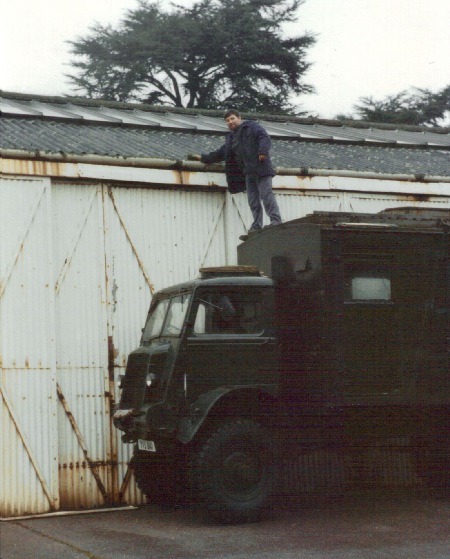 Early 1990s again and Gordon's Bedford Scammell and Peter Clarke's Ford GPW outside the Mansion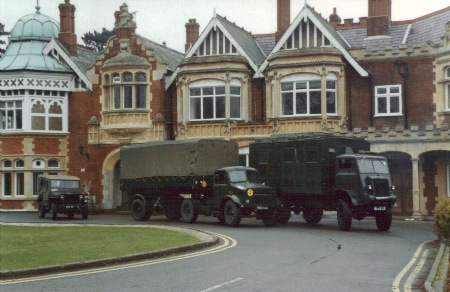 *******************************************************************************************************************************************************