Military Vehicle Trust . . . the world's biggest and oldest military vehicle club!
South East Midlands Area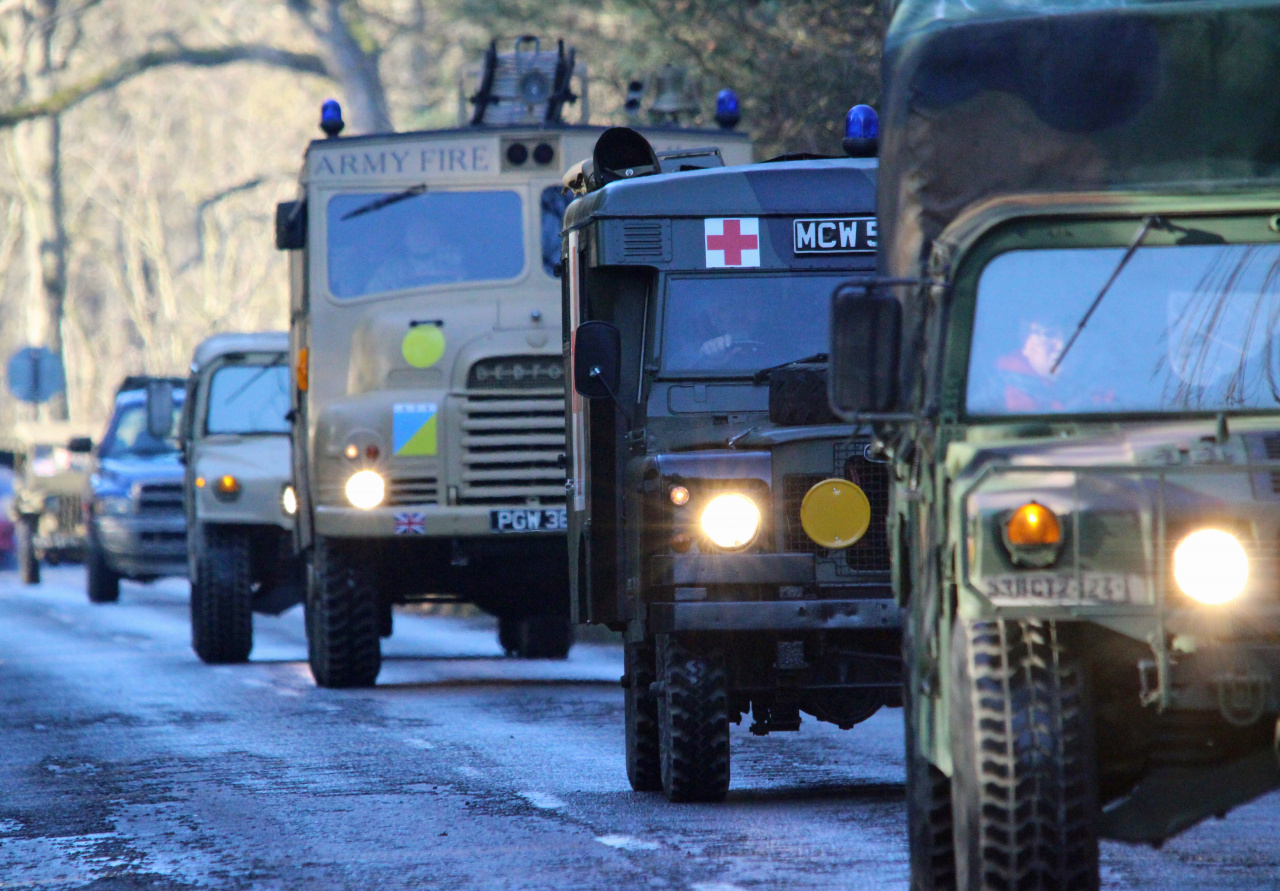 Magnificent seventeen hit the road
Seventeen vehicles, ranging from Jeeps to Humvees and from a Jimmy to a Green Goddess, took part in our traditional January Roger's Road Run.
The New Year outing has its origins back in the early 1980s when area founder Steve Gascoigne, now an MVT vice-president, took MVs on a tour of green lanes in South Northants. Unfortunately, most of those lanes are now closed in the winter months so the event has morphed into a road run.
As usual, Roger and Janet Higgerson planned the route, helped by Gordon and Vicky Beale and Roger led the convoy in his DAF YA66. The start was at the Red Lion truck stop near Junction 16 of the M1, where our vehicles were well admired by foreign lorry drivers. Then it was on through the lanes and B roads of south and mid-Northamptonshire, taking in the iconic canal village of Stoke Bruerne, Salcey Forest and Yardley Chase.
A soup and loo stop was at Denton Village Hall before we made our way to Great Doddington for lunch. Despite an earlier forecast of rain, the day stayed bright and dry. All MVs made it to the finish without any problems, a remarkable feat given that this was the first trip for area secretary Neill Elliott's Dodge WC51, which was without its cylinder head the day before!
Taking part were DAF YA 66, GMC CCKW 352, two Jeeps, Land Rover Lightweight, two Land Rover ambulances, Austin K5, two Land Rover 110s, Leyland DAF T244, Dodge WC51, Green Goddess, Dodge Ram, two Humvees and Daimler Ferret.
Below is a You Tube video.
Pictures by Kevin Lamberth, Vaughn Glyn and Peter Clarke. Report and video by Peter Clarke
(If any members want pictures of their machines from Roger's Road Run, they should email Kevin Lamberth with the machine's make and registration number: kevin.lamberth@ntlworld.com)