Below are the minutes from area meetings. The minutes book is available for inspection at meetings.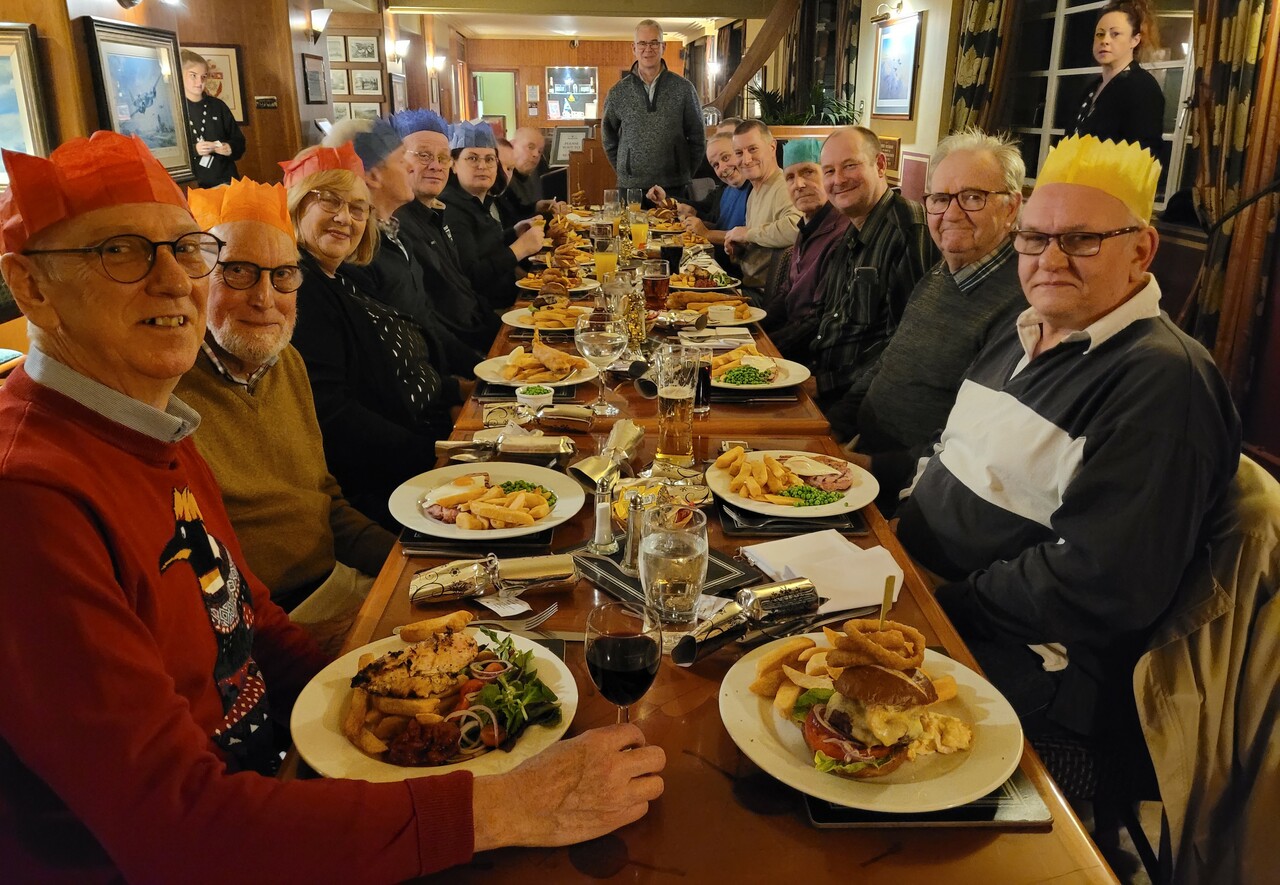 December
Date: 03-12-21. Venue: Aviator, Sywell Aerodrome. Present: Neill Elliott (area secretary) plus 20 members.
1 A total of 17 members sat down to a Christmas meal, followed by a fiendish quiz compiled by Kevin Lamberth, with help from Vaughn Glynn. The quiz was won by Duncan Aran, with George Jackson second and Andy Speechley third.
2 Secret Santa gifts were exchanged.
3 NE thanked those who turned out to sell poppies for the RBL and said we had managed to cover a large part of Northamptonshire and Milton Keynes. Kevin Lamberth volunteered to act as liaison between SEM and the RBL for next year.
4 John Underwood thanked those who took part in the Remembrance Day service and road run. For next year, he proposed staying at Deenethorpe airfield for a buffet lunch. The people at Deenethorpe were keen on having the MVT in the summer, perhaps for a weekend. John and his wife Judith were applauded for their efforts on Remembrance Sunday.
5 NE thanked members who helped him run the area, saying it was a real team effort.
November
Date: 04-11-21. Venue: Aviator, Sywell Aerodrome. Present: Neill Elliott (area secretary) plus 20 members. Apologies: None. Minutes of 08-10-21 were signed.
1 NE thanked members who had helped at Wicksteed at War. They did a great job and the show was well received by visitors and exhibitors. It was important to put on a show after a two-year break. Peter Clarke said it was a learning experience too for the new Wicksteed operating company, as it was by far the biggest event for them so far.
2 NE said he had been attending area secretary meetings via Zoom, which he found invaluable to exchange information and ideas. Points coming from them included: MVT finances are healthy and membership is growing; financial help for the Crowland Buffalo restoration project; and a huge archive of historic manuals to be digitised.
3 Will Needham said there would be a 1940s weekend at Crowland on June 24-25. As this is just 20 minutes from Peterborough, he thought we could support it.
4 Andy Speechley said he had been asked to advise CoM on a new Veterans' Policy. This was being formulated and ideas were welcome.
5 NE said plans for the D-Day 80 visit to Normandy in 2024 would be different from previous years with a much looser format. Post-war vehicles would be made more welcome.
6 NE said the Bedfordshire Steam Fair at Old Warden Park was to be replaced with a similar event at Turvey, which we could support.
7 NE said the Christmas meeting on December 2 would take the same format as in 2019, with a meal chosen from the Aviator's menu followed by a Secret Santa and a quiz. This year the meal would be in the Aviator restaurant but we would then move to the meeting room for quiz, to be compiled by Kevin Lamberth. Menus and more information to come via email.
8 NE said he occasionally sent out emails which required a Yes/No answer but was disappointed with the response, with only 11 replies out of 61 people emailed. A better response was vital so he could gauge opinion and plan events, even if the response was simply No.
9 Members would be selling poppies in Milton Keynes, Kettering, Weldon, and Shefford, as well as in Riverside retail park and Dobbies, Harlestone Heath in Northampton.
10 John Underwood said the details of the annual Poppy Run and service were on our website and included a service at Weldon, ordnance firing at Deenethorpe Airfield and a run to East Carlton for a late lunch.
11 Caroline Jackson said MVs were welcome at a parade on November 11 at Coffee Hall, Milton Keynes, where 1,000 children were due to take part.
12 NE said Roger's Road Run would be on January 23. Details are on our website.
13 Member Howard Aran, who is a Colonel in the Commemorative Air Force, gave an interesting illustrated talk on the Texas-based warbird collection. It was started in 1957 when Lloyd Nolan and friends bought a war-surplus P-51 Mustang for $350 dollars and has grown to house 176 WW2 aircraft, most of them airworthy. It is the 15th largest air force in the world and also has wings in the UK, France, Switzerland and New Zealand. He promoted CAF as a much cheaper way to fly in warbirds, compared to prices in the UK. In fact, if a few ground duties were undertaken, flights could even be free.
October
Date: 08-10-21. Venue: Aviator, Sywell Aerodrome. Peter Clarke plus 15 members. Apologies: Neill Elliott, Ian Gardiner, Roger Higgerson, Geoff Baulk.
1 PC said that Neill Elliott was dealing with urgent family business and could not attend the meeting so he would be chairing it.
2 Wicksteed at War: PC said it had been a very successful show, aided by good weather. There were some obvious problems for show participants, most of which were beyond our control, namely lack of toilets and food outlets. Visitors to the show were also faced with very long queues for the car parking machines. The operators of the railway had made a good effort to mark the occasion, which was appreciated.
John Underwood said the schools' day on Friday had gone well.
Steve Myles said the SEM vehicles seemed to be spread out across the park and the area lacked a presence like the Charnwood Area achieved with their display. PC said he had noticed this too and suggested that for 2022, SEM had a space in the display area with a 12x12 hospitality tent and a chill-out area to host MVT members and VIP guests where tea, coffee and biscuits were on tap. He volunteered to run this.
Matt Hollingsworth said the Green Goddesses would have preferred set times to display their pumping skills, so visitors were more aware of them. PC said the lack of an arena meant there was no PA system or programme but perhaps this would addressed next year. John Underwood said the arena was missed by visitors who expected a battle or two and to see tanks displaying. He realised that it was a pain to organise but worth it.
3 Poppy selling: Dates for selling poppies are Saturdays, November 6 and 13. Four members volunteered to bring vehicles to Riverside, Northampton, two at Dobbies, Harlestone Heath, and one at Weldon BP filling station. John Underwood said he and Judith were once again organising a road run on Remembrance Sunday (14th), meet at Weldon around 10.30am for the service and then leave for Deenethorpe airfield and then lunch at East Carlton. PC said details were on the website.
4 PC went through the diary, which included a 1940s weekend at Rushden on October 16-17 and the area Christmas meal on December 2. More details later. Kevin Lamberth volunteered to compile the quiz. Roger's Road Run is on Sunday, January 23, starting at Jack's Hill Café, Towcester, at 1000-ish.
5 Will Needham gave an excellent illustrated talk on his part in the Heroes Parade at the recent Goodwood Revival meeting. He said he came across his Chevrolet CMP truck while buying a farm trailer and found some desert paint on it. He said Goodwood was very strict about vehicle authenticity and dress code in the show area and he bought a uniform for the occasion to honour his Canadian Uncle Jimmy. He found himself right at the front of the parade of vehicles.
September
Date: 02-09-21. Venue: Aviator, Sywell Aerodrome. Present: Neill Elliott (secretary) plus 15 members. Apologies: Ian Gardiner, Simon Tasker, Steve Smith, Kevin Lamberth, Vaughn Glynn, Tim Cross, Tim Hawkes, Roy Shakeshaft.
1 NE welcomed all to the meeting, the first at the Aviator since March 2020 due to Covid restrictions. He especially welcomed new member Geoff Baulk.
2 Wicksteed at War: NE said all was progressing well with an excellent line-up promised, including Guy Martin's WW1 tank replica, ground-based Spitfire, Vietnam re-enactors, axe-throwing, archery, 80 years of the ATC, Walker Bulldog tank, tank ride experience etc. There would be no arena but displays throughout the park. A field had been put by for tanks to operate. There would also be skirmishes in a wooded area and model aircraft flying. Volunteers were needed for marshalling duties.
John Underwood said Friday would be schools' education day but he didn't yet know any numbers. There would be a Friday night "Purple Heart" disco and Saturday night entertainment in the pavilion.
The MVT caravan would be present and used as a base and Richard Adams, MVT verification officer, would be present to give advice.
3 NE said area secretaries had been meeting via Zoom, which had been very helpful. There had been discussion about the MVT and social media and NE asked members to think whether we want to or need to embrace this. Peter Hamblin, treasurer, would be addressing them on the MVT finances.
4 Members reported they had attended recent shows, including Melton Mowbray, Harborough at War and Tanks, Trucks and Firepower. It was felt the lay-out at Harborough needed some tweaking.
5 Will Needham said he was displaying his Chevrolet CMP at the prestigious Goodwood Revival parade.
6 Discussion took place on future events and members were urged by NE to inform Peter Clarke so these could be added to our website's Diary Dates section.
7 John Underwood said he had used the revamped MVT main website to successfully renew his membership. Peter Clarke said he was still waiting for the area websites satellite software to be launched.
8 John Underwood said he would once again organise activities on Remembrance Day, November 14. He proposed members meet at Weldon for the morning service and then depart for Deenethorpe Airfield for refreshments. After that there would be a run back to his house at East Carlton for a late lunch. Details to be posted on our website once confirmed. NE said he hoped we would be back selling poppies at various sites on the Saturdays leading up to Remembrance Day.
9 NE reminded members that ethanol had been added to UK petrol in the last few days and warned them that it could have a deleterious effect on our old vehicles. Peter Clarke said that SEM area founder Steve Gascoigne had been assured by Castrol that Castol Valvemaster Plus additive negated the effect of ethanol and raised the octane level of petrol.
10 NE asked about the Christmas meeting and it was agreed that, Covid permitting, we would pre-order meals from the Aviator menu and have the usual quiz.
11 Will Needham warned that new laws were on the way which would affect "antique weapons". He advised members with any type of firearm to really check out the new regulations.
12 NE said the next meeting was planned at the Aviator for October 7, starting at 8pm.
June 2021

Date: 12-06-21. Venue: Sywell Aviation Museum: Neill Elliott (secretary) plus 14 members. Apologies: John Underwood.
1 The meeting started with Roger Higgerson paying a tribute to Gordon Beale, who died of Covid recently. Gordon was a very early member of SEM and members stood for a minute's silence.
2 NE said MVT had launched face masks and snoods which were available from the MVT online shop.
3 Will Needham warned members that from September they should use only premium petrol as more ethanol was being added to standard petrol. This could rot rubber components and cause water to condense in petrol tanks. He also advised those with newer MVs to take notice of new tyre laws. Historic vehicles may be exempt.
4 NE said there was a ceremony on June 22 to mark the 80th anniversary of an Avro Manchester crash near Wollaston. Smaller MVs were requested. An email alert with more details would be sent soon.
5 Roger Higgerson said he was helping research the wartime crash of a light American Air Force aeroplane near Rugby.
6 Roger Higgerson said he regretted there would be no Roger's Road Run this year but it would be back next year.
7 Tim Hawkes said he had attended a site meeting for Wicksteed at War and it was all systems go. There would be no arena this year, which would make it a much more enjoyable and less stressful event for members involved in organising it and marshalling. Around 25 acres had been set aside for running tanks. Camping would be as in previous years with free "white" camping in a roped-off area in the caravan field. On the Friday night there would be a Purple Heart disco but no Saturday night dance, although the bar would be open. NE said volunteer marshals were needed but only perhaps for a morning or an afternoon at a time. Tony Patrick said it was a shame that Wicksteed clashed with Kettering Steam Rally at Cranfield, about a mile away. It would cut down numbers of the public and some exhibits.
8 Howard Aran promoted the US Commemorative Air Force and said members ran MVs and well as aircraft. Becoming a Colonel meant a welcome at CAF bases in the USA when international travel became easier.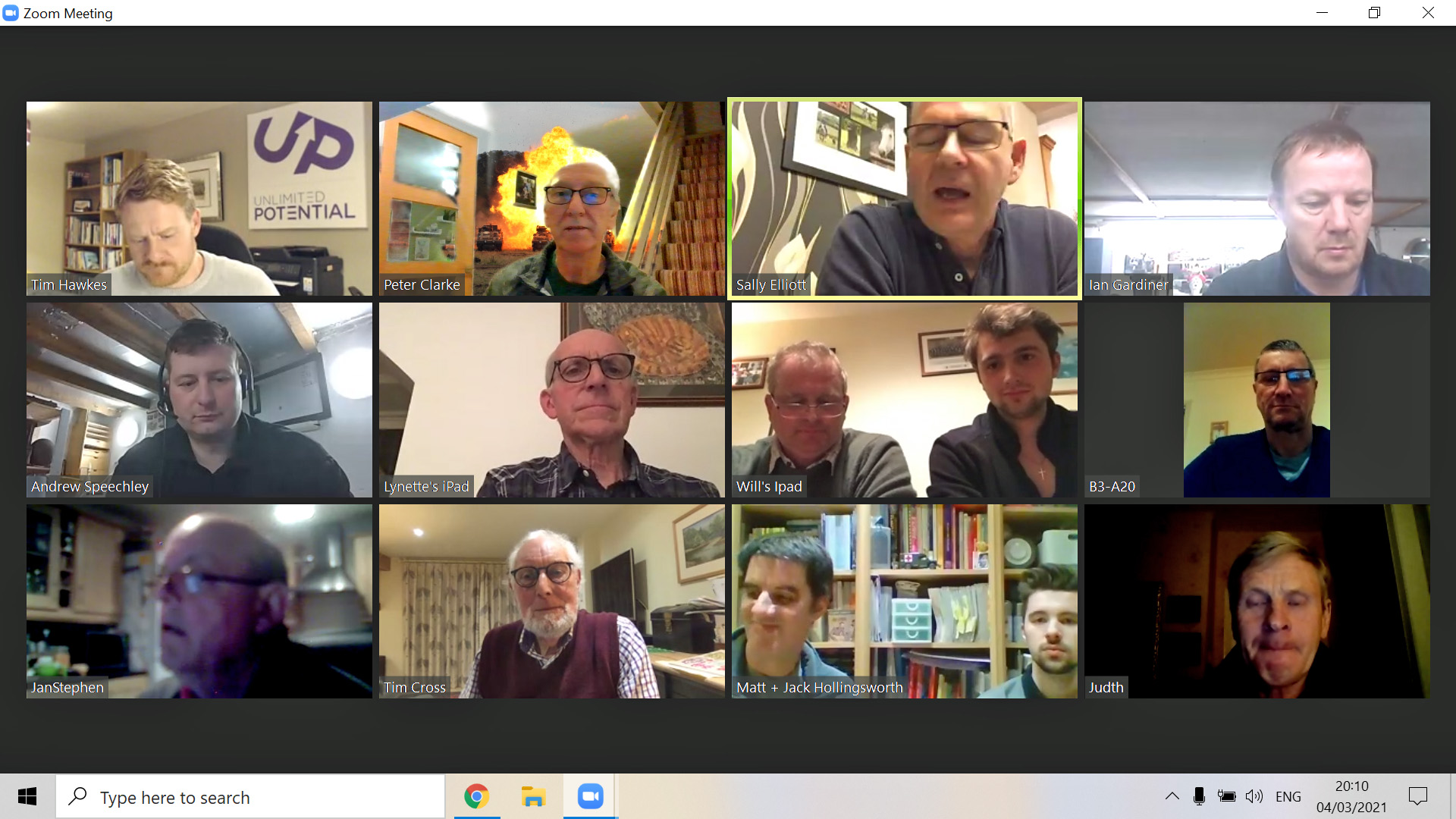 March 2021
Date: 04-03-21. Venue: Zoom meeting due to Covid 19 restrictions. Present: Neill Elliott (secretary) plus 11 members. Apologies: Heather Bailey, Kevin Lamberth.
1 NE welcomed new members Matt and Jack Hollingsworth.
2 NE said we had only been able to meet once in the summer of 2020, at Sywell Aviation Museum car park. The museum was opening this year on June 12. Peter Clarke said MVs were welcome at the opening but it would a more low-key event than usual and refreshments were not able to be supplied by the museum. It was hoped that Peter Teichman would bring his recently restored Spitfire, a survivor of those supplied to Russian under lend-lease.
3 AGM. All officers were re-elected en bloc: Secretary Neill Elliott, chairman Ian Gardiner, webmaster Peter Clarke, deputy webmaster Kevin Lamberth, Wicksteed at War co-ordinator Tim Hawkes. NE thanked Ian Gardiner, Will Needham and Peter Clarke for their help in running the area.
4 Tim Hawkes announced that Wicksteed at War had moved to September 24-26. Things would be different this year with no arena but individuals and groups were invited to set up their own displays, which the public could wander amongst. This would prevent too many people gathering in one place and put an end to the need to shepherd vehicles in and out of the arena. Multi-period re-enactor groups would be invited and there would be an infantry-only area. A wasp helicopter would be flying in and there would be a Spitfire part-replica on display. It was hoped the Guy Martin Mark IV tank would be attending. Stalls would be in much the same place as in previous years. The park had allocated an area for tanks to run and didn't mind if the grass was ripped up! Friday would be education day, with the bar open in the evening. A large-scale Saturday night dance was in doubt. Period-style camping is allowed by MVs, others in the camp site. An area for SEM marshals "white" camping would be allotted in the caravan field. Booking for MVs and groups would be via a website later.
5 Peter Clarke said the Flying Legends air show was relocating to Sywell from Duxford in July 10-11. He felt we should be present at this high-profile event. Tim Hawkes said the MVT trailer could be booked. NE to contact air show organisers.
6 Peter Clarke reported the sad death of former area secretary Gordon Beale and said his family were planning a celebration of his life when Covid restrictions permitted. Tim Hawkes said we should make a show of force to honour someone who was instrumental in the early success of the club and area. Peter Clarke to liaise with Gordon's family.
7 Matt Hollingsworth said the steam fair which used to be held at Old Warden Park was moving this year to Turvey, date to be confirmed. His son Jack was helping organise the MV element and would contact Peter Clarke with details.
8 NE, with Tim Hawke's help, presented a military-themed quiz which was won by Andy Speechley with 75 points out of a possible 100. Will Needham was second, Peter Clarke third and the wooden spoon went to Ian Gardiner!