Click to edit text. What do visitors to your website need to know about you and your business?

Below are the minutes from area meetings. The minutes book is available for inspection at meetings.
December 2023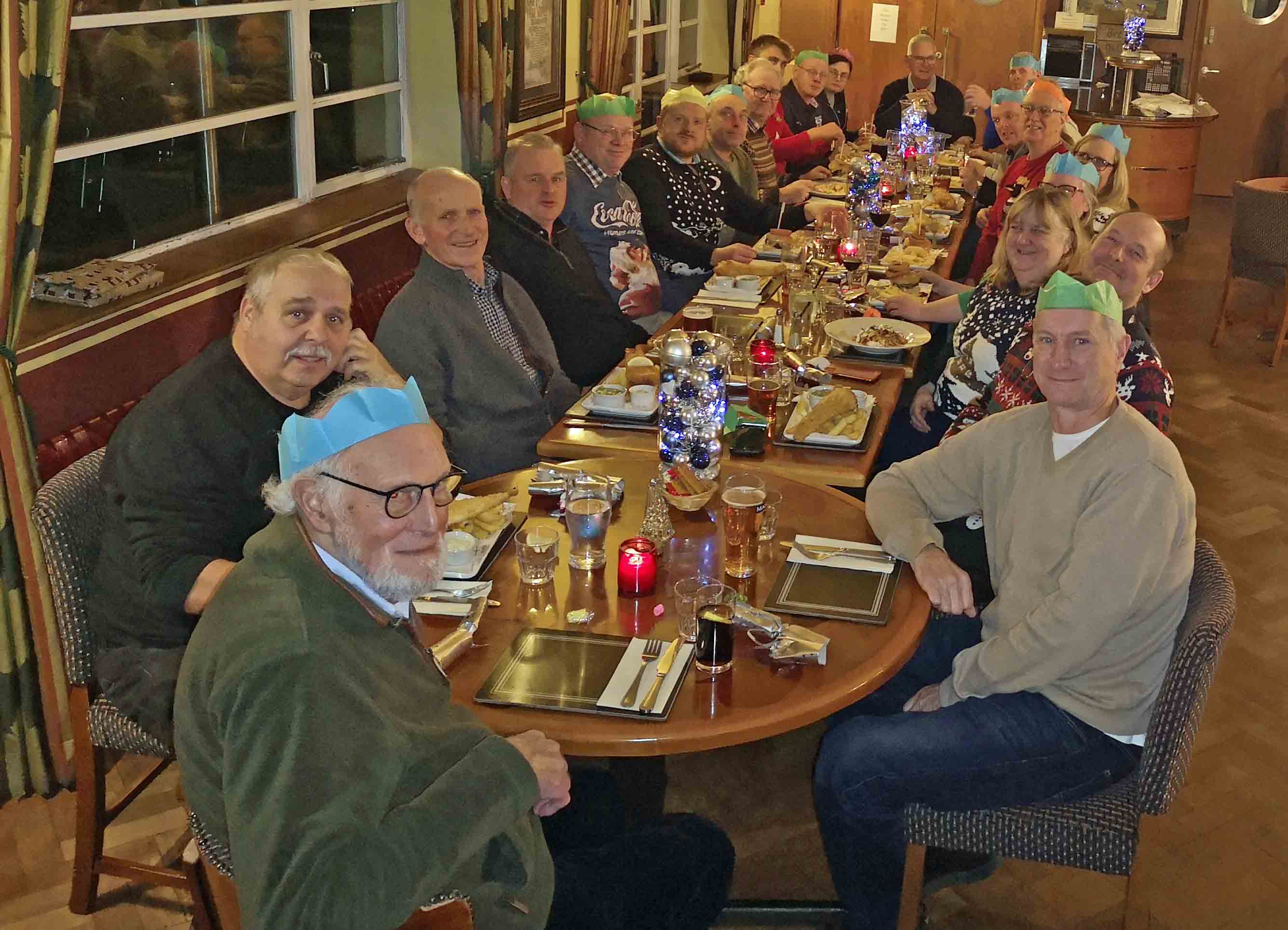 Christmas meal at the Aviator restaurant
Date: 01-12-22. Venue: Aviator, Sywell Aerodrome. Present: Neill Elliott (secretary) plus 23 members and guests. Apologies: Ian Clayton, Geoff Baulk.
1 After a meal in the Aviator restaurant our Christmas celebrations continued with a Secret Santa and a more than usually fiendish quiz, compiled this time by Duncan Aran. With 84 points available, the winner was Andy Speechley with 53, followed by Howard Aran (49) and Tim Hawkes (47).
2 Peter Clarke reminded members of Roger's Road Run on Sunday, January 22, starting from the Turnpike at Harpole. If anyone wanted breakfast they should get there before 0900. Details on the website diary.
3 NE said more than £2,600 had been raised by Poppy selling in Northampton and large amounts were raised elsewhere in the county. He thanked all those involved and Kevin Lamberth for co-ordinating efforts in Northampton. Caroline Jackson said that George and Felicity Jackson raised £1,500 in Milton Keynes. NE said that adding in money collected in by John Underwood in Weldon and Tim Webster in Corby, the SEM area must have collected at least £5,000, a magnificent total.
4 George Jackson said Vintage Stony was being held at Stony Stratford on January 1 and members should get there early to get a parking spot.
4 NE reminded members there was no area meeting in January and the February meet would include the AGM.
November 2022
Date: 03-11-22. Venue: Aviator, Sywell Aerodrome. Present: Neill Elliott (secretary) plus 20 members and guests. Apologies: None.

1 NE took orders and payments for the Christmas meal. He said there would be a 1945 hours start to order drinks with a aim of eating soon after 2000.
2 Kevin Lamberth supplied Remembrance Poppies and other supplies to be sold by members at three Northampton locations on November 5 and 12. NE said we would be selling between approximately 1000-1500. Members who couldn't bring vehicles were welcome to come along and help out. We were a little short of vehicles at Riverside for the 12th. The other two locations were Dobbies Garden Centres at Harlestone Heath and Wootton.
3 Roy Sharman brought along some books to be sold for Ukrainian relief.
4 John Underwood reminded members of the Weldon Remembrance Day service and said lunch refreshments would be available at Deenethorpe airfield.
5 NE welcomed guest speaker Terry Whenham, a WW1 battlefield researcher and tour guide, who brought along relics he had found on the Western Front, including both British and German helmets, shrapnel, barbed wire and a "silent" wire post. He mentioned individual cases, including the first Northamptonshire VC, who attracted a crowd of 20,000 at Abington Park on his return from the front. His informed talk earnt him a round of applause.
October 2022
Date: 06-10-22. Venue: Aviator, Sywell Aerodrome. Present: Neill Elliott (secretary) plus 18 members. Apologies: Vaughn Glynn, Tim Hawkes, Geoff Baulk, Roy Sharman, Roy Shakeshaft.

1 Reviews of shows. NE reported the Victory Show was great with some unintended excitement when a field of stubble caught fire during a mock battle. The Bedfordshire Steam and Country Fayre was also good with MVs of all eras. The huge showground had potential be a replacement for Wicksteed at War and Harborough at War. The Bletchley Park 40s Weekend was interesting and Peter Clarke said the estate and changed – and shrunk – considerably since SEM were based there 20 or more years go. He, Neill and Will Needham had spoken to the head of events there and she was willing to consider an all-eras MV show next year.
2 NE said the MVT AGM was being held at Leicester on October 16 and he hoped lots of SEM members would attend. It clashed with Rushden 1940s weekend.
3 Operation Poppy: Kevin Lamberth was co-ordinating efforts in Northampton this year and said we had a third venue: Dobbies garden centre at Wootton. NE asked members to sign up to man these sites from 1000 to about 1500. An email alert would be going out soon.
4 At the next area meeting on November 3, WW1 battlefield guide Terry Whenham would be giving is a talk. NE urged members to attend and bring a guest.
5 John Underwood said the Remembrance Day activities would be shorter and simpler this year in order to get members home before dark. We should RV at the Weldon Memorial at 1030 hours for the 1100 service. After that we would convoy to Deenethorpe Airfield where there would be food and drink at a modest price, an artillery piece demonstration and two vintage aircraft displaying. We could drive around the airfield before dispersing. More details via email later.
6 John Underwood said Deenethorpe Airfield was keen to get us involved next year as a B-17 crash in the village was being commemorated. Also, some crewmen's tankards, which were buried at the airfield, were to be dug up now that the last veteran had died.
7 Christmas. NE said we were repeating last year's successful format with a single course meal at the Aviator before adjourning to our meeting room for a Secret Santa and quiz, compiled by Duncan Aran. NE would be taking names, meal choices and money at the next meeting.
8 Roger Higgerson said Roger's Road Run would be on Sunday, January 22, starting at 1000-ish from The Turnpike Beefeater on the A4500 at Harpole. All you can eat and drink breakfast was £9.50 a head. The road run would have a soup stop (already simmering away!) and finish at a pub for a late lunch.
9 The new area Facebook group was going well with 23 members signed up. NE would send a list of the 73 SEM affiliated members to the moderators, so they knew who was eligible to join the closed group.
10 Andy Speechley gave a fascinating illustrated talk about his career in the Army Reserve and Regular Army and included anecdotes from his deployments to Afghanistan, Germany, Estonia and Kenya. Members gave him a round of applause after an interesting and sometimes eye-opening evening.
September 2022
Date: 01-09-22. Venue: Aviator, Sywell Aerodrome. Present: Peter Clarke (webmaster) plus 8 members. Apologies: Neill Elliott, Vaughn Glynn, Tim Hawkes, Karen Everest.

1 Reviews of shows. PC said Harborough at War was a great success, with Kevin Lamberth taking some great pictures and getting to drive a Chieftain tank. PC got to ride in a Ferret through the town, and George Jackson drove an Abbott SP gun.
2 Richard Hall reported on the Thurleigh veterans' families event and said the MVs supplied to take the visitors to and fro were very much appreciated. Tim Cross said many of the visitors gave an account of their relative's part in Thurleigh history and he found this very moving.
3 PC said Tanks, Trucks and Firepower was very busy with a greater accent on post-war vehicles; Kevin Lamberth visited Norfolk Tank Museum and a Parachute Regiment Association event. Roy Sharman said the classic car event at Rushden Hall was packed with vehicles in a tight space and constituted a fire risk in the arid conditions. He also attended shows at Ramsey and Earls Barton.
4 Coming events included an MK Museum 1940s weekend, Classic Car 100 at Chapel Brampton, Bedfordshire Steam Rally, Kettering Vintage Rally at Cranford and the Crowland Buffalo Memorial Run. PC said the events were listed on the area website.
5 PC said Andy Speechley had agreed to talk at the October meeting about his career as an Army Reservist. Kevin Lamberth would supply a laptop projector. PC said Neill Elliott was thinking of asking the MVT for a grant to buy our own projector. Members unanimously agreed this.
6 For the November meeting, Neill had arranged for guest speaker Terry Whenham to talk about WW1 battlefields, using his knowledge is as a tour guide (Kevin Lamberth has been on one of his tours). He will also bring along part of his artefacts collection. Please promote the evening, which is timed to happen during the Poppy Remembrance period. Non-member guests are welcome, so please spread the word.
7 Area Facebook. Neill Elliott, in a report, said things are progressing. Will Holmes (MVT Fb administrator) is working on it. Our moderators will be Kevin Lamberth, Howard Aran and Katie Brown. Howard has suggested that there will be a couple of questions to answer to get access (via moderator): What is your MVT membership number and are you affiliated to SEM area? The answers need to be yes. This will keep the group much more restricted to our area. Howard then suggests that initial posts/topics will have to be cleared by moderator first. Responses will not be have to be cleared but a keen eye will be kept on them and unsavoury ones will be removed.
8 Members discussed the December meeting and agreed to repeat last year's pattern of a single course meal at the Aviator, followed by a quiz and Secret Santa. Howard Aran would be compiling the quiz.
9 Roy Sharman said his Jeep broke down on the way back from the Thurleigh event when a piece broke off the shaft which holds the clutch and brake pedals. He passed around the broken shaft as a warning!
10 PC passed around a Windscreen magazine from December, 1986, which featured a green lanes run in South Northants, the forerunner of Roger's Road Run. The back page picture showed a photo taken by PC of area founder Steve Gascoigne extricating his Jeep from a boggy hole.
August
Date: 04-08-22. Venue: Aviator, Sywell Aerodrome. Present: Neill Elliott (secretary) plus 18 members. Apologies: Howard Aran, Katie Brown, Vaughn Glynn, Richard Hall, Tim Hawkes.

1 NE welcomed Max Kellner, a friend of SEM founder Steve Gascoigne and his father Martin to their first meeting. Max has a Jeep and a rare post-war Jeepster pickup.
2 Show reviews: Mike York said he attended Woodhall Spa weekend which saw aircraft displays, MVs and classic cars. Kevin Lamberth attended RIAT but there were only a handful of MVs on display. He also was invited to the We Have Ways event near Silverstone. Peter Clarke said he was disappointed that the organisers of the festival, which included MVT patron James Holland, had not wanted to involve SEM members. Peter Clarke attended an airshow at Old Buckenham, Norfolk, where a number of MVs displayed. George Jackson went to Bedford River Festival and his Ferret was the only MV there.
3 Coming shows: Several members said they were going to Harborough at War, either for a day or the whole weekend. NE outlined the visit of veterans' families to Thurleigh on August 13-14. MVs should be at the airfield by 9.30am on the Saturday. Sunday started with a 9am service at Bletsoe church. Wartime MVs were requested to ferry the visitors around the airfield and to Bletsoe. Andy Speechley mentioned Tanks, Trucks and Firepower on August 27-29 and said off-road driving was available once the public had gone home. Caroline Jackson said this clashed with Military Odyssey in Kent which she and George had booked for. The MVT caravan would be at the Victory Show, Leics, on September 2-4 and volunteers were needed to man it. NE said we had once again been invited to the Rotary Club's Classic 100 show at Chapel Brampton on September 10. Peter Clarke said this included road runs or different duration. NE said booking had closed for Bedfordshire Steam Rally on September 16-18.
4 NE said he wanted to have another method of communication to run alongside the current email alerts and SEM website. He favoured a Whatsapp group but said other areas were running Facebook pages. After discussion a vote showed members were split 50-50 on the issue. It was decided to try out both platforms. NE said Will Holmes from MVT CoM would be the Facebook administrator and that Howard Aran, Katie Brown and Kevin Lamberth had volunteered to be moderators. NE to progress.
5 Kevin Lamberth said Duncan Aran had volunteered to compile the Christmas quiz.
6 There followed a very successful bring and buy sale of MV-related items.
July
NB: There was no June meeting owing to the Platinum Jubilee holidays.
Date: 7/7/2022 Venue: Aviator, Sywell. Present: Neill Elliot + 11 other members
Apologies: Vaughan Glynn, Will Needham, Richard Hall, Geoff Baulk.
1 NE welcomed new member Andre who has a 1942 Willys MB.
2 Show reports: NE said the Wellingborough Armed Forces Day was enjoyable and included two Chelsea Pensioners. George Jackson attended the Bedford AFD. Tim Hawkes was involved with the Southwick House to Basingstoke road run. Brian Rive went to wartime in the Vale with Simon Tasker but said MV numbers appeared to be down this year, perhaps because of the price of fuel. However, the display of Diamond Ts was impressive.
3 NE said the Parachute Association was holding its annual "do" at Wellingborough Rugby Club, near Sywell, in August and MVs had been invited. Date to be confirmed.
4 Wicksteed at War: NE said after this year's cancellation by the Wicksteed Park Trust, decisions had to be made whether to plan for next year or not. Issues were: The planning team needed more members; Wicksteed Park had messed us about and there was no guarantee they wouldn't do it again in 2023; should we have an arena or not?; if not Wicksteed Park, then where? A brown field or green field site would have to be rented and this, plus the cost of putting in infrastructure such as toilets and power would run into thousands of pounds. The consensus of the meeting was that, although Wicksteed Park was an ideal location, the Park Trust could not be relied upon, especially if the Ukraine War was still ongoing. Members discussed other likely venues, such as Thurleigh (probably not enough room), Yardley Chase Cadet Training Centre (a bit remote from Northampton), Upper Heyford former air base, Turvey (where the steam fair is held), and Towcester Racecourse. NE would prepare a group email seeking more opinions.
5 NE reported on the area secretaries meeting and said the MVT membership stood at 5,948 and rising. The national MVT website was discussed and came in for a good deal of criticism.
6 NE proposed that SEM have a Whatsapp group to keep members informed. Members agreed and Peter Clarke was asked to look into data protection issues. Howard Aran proposed an SEM Facebook page and volunteered to set it up and be a moderator. Kevin Lamberth also volunteered to be a moderator.
7 John Denney said we had to find some storage for the area's 12x12 tents, tables and chairs as we could no longer keep them at John Marchant's farm. John was moving and the shed they were kept in was falling down. A space about half a small garage was needed. NE said we may be able to pay for storage if there were no volunteers. He would prepare a group email appeal.
8 NE said the MVT AGM would be at a hotel in Leicester on October 16 and he hoped lots of SEM members would attend.
9 NE said families of USAAF veterans were visiting Thurleigh on August 13 and MVs would welcome at the museum. On August 14 they would be at Bletsoe.
10 NE asked members what they wanted from the SEM area: road runs, shows, meetings etc? Howard Aran said he enjoyed the out-of-season road runs in January and November. He said Upper Heyford was worth a visit. Peter Clarke welcomed trips to interesting venues. He suggested Weedon Depot, which could probably provide a guided tour. NE said perhaps monthly meetings could be held at different venues at weekends. Steve Myles said he would like to visit other areas, such as Charnwood and North Oxon.
11 Peter Clarke showed members work in progress on the proposed new area website, which would be a satellite of the main MVT website. He said he was finding the software massively complicated and the end result was not much better than our existing site. It would, however, save the club £110 a year in fees. Only one other area was using this format and that was set up by the MVT's website officer. Another area had started to create their satellite site but had given up and used Facebook instead.
May 2022
Venue: Aviator, Sywell. Present: Neill Elliot + 9 other members. Apologies: Peter Clarke & Vaughan Glynn
1. The group reviewed Sywell Aviator Museum's 21st year opening day. Very well supported with a large number of MV's plus classic vehicles. Trophies were given to MVT, TTS and the Northamptonshire Home Guard for their long and continuous support (MVT from the start). NE expressed a special thank you to Andy Speechley for his help taking Roy Shakeshaft to this event.
2. NE also noted the RBL Kettering Breakfast. Members that attended Chapel Brampton Classic Event and Drive it Day at the Ordnance Depot, Weedon reported that all went very well. The Brampton Classic organisers particularly wished to thank MVT members for their presence. Peter Clarke with his Austin 8 staff car took the best military vehicle in show award.
3. The late Alan Plummer, a long standing MVT member, had owned in addition to his Scammell a very early Series 1 Land Rover (one of the first 500) and his widow, Mandy Plummer, after keeping it for a few years, decided it should be sold. Neill Elliott, Tim Hawkes and Ian Gardiner trailered it to auction and back again because it didn't reach its reserve but was subsequently sold privately. In appreciation Mandy donated £60 to the SEM funds for this help.
4. NE reported that Wicksteed at War had been cancelled by the Wicksteed Park Trustees, the reason being because of sensitivity to the invasion of Ukraine. Numerous Military and Steam Railway wartime events have been cancelled for the same reason.
5. Members discussed ways that owners of Russian vehicles could be able to continue displaying their vehicles. It was felt that it was the red star markings which could be deemed inappropriate during the current crisis and not because the vehicle was of Russian manufacture. It was pointed out that Russian made vehicles are used by some 60 different countries including Ukraine. NE confirmed that he had written to CoM asking them to review the current Ukraine guidelines.
6. NE attended the Area Secretaries' meeting and reported that the current membership of 5,851 has never been so high. The next AGM will be at Coventry on 16th October 2022. For those wanting to join the Normandy tour, an information on taking your vehicle abroad post Brexit is currently being worked on.
7. Social Media. SEM does not use it, but some areas do. Unfortunately there has been an unpleasant set of posts which had to be investigated by CoM.
8. Armed Forces Day, Wellingborough - 25th June 2022. MVT have been invited 1000-1600 at Bassett's Close Park – details on website.
9. NE advised members to be very careful about driving through Clean Air Zones. The rules are inconsistent, and it can be very expensive.
10. NE. asked members to try the new MVT website which does not appear to working well. It would be helpful if constructive comments and observations could be reported at the next meeting.
11. Kevin Lamberth commented that entry fees for the War and Peace show were exceptionally high and asked if anyone would be attending. Nil response. He also agreed to pass on details to NE of two potential guest speakers.
April 2022
Date: 07-04-22. Venue: Aviator, Sywell. Present: Neill Elliott (secretary) plus 10 members. Apologies: Kevin Lamberth, Vaughn Glynn, Tim Cross, Mike York, Simon Tasker, Roy Shakeshaft, Ian Gardiner.
1 Richard Hall said that the opening of Thurleigh Museum for 2022 was a success with good weather. It was delayed for a week due to insurance issues and clashed with Dallas Digout, which restricted the number of MVs attending. The museum was open every Sunday from 1030-1630 and MVs were always welcome. Families of veterans were expected on August 13.
2 Peter Clarke said he would be attending the Brampton Classic 100 event on Saturday. Other MVs would also be there but in the light of the Ukraine invasion were requested not to drive in convoy.
3 NE said Sywell Aviation Museum was opening for its 21st year on Easter Saturday, April 16, and MVs should arrive between 0900 and 0930.
4 Peter Clarke promoted the FBHVC's Drive-it Day on April 24. Plaques were on sale with proceeds to Childline. Howard Aran said the Industry and Supply company was holding an open day at Weedon Depot and this could be a suitable destination for any MVs out driving. Peter Clarke to send out a group email about this.
5 NE said there was an area secretaries' meeting on Monday when the issues under discussion would include the Ukraine invasion and the MVT in social media. NE read out the CoM's advice re Ukraine and discussion followed.
6 Andy Speechley said plans for Wicksteed at War were going ahead and the BBMF had confirmed.
7 NE said WW2 MVs had been invited on VE Day to an event at the Charter House Estate near Wellingborough. He would find out more about this.
8 Andy Speechley said plans to establish a museum at Grafton Underwood were progressing and volunteers were welcome. There was a Facebook site:
384th Bombardment Group Museum Project.
9 NE reported the Beds Steam and Country Fair was at Turvey House on September 16-18 and the MV section was being organised by area member Jack Hollingsworth. Peter Clarke to send out a group email about this.
10 Steve Myles said that the RBL was organising trips to the National Arboretum. Peter Clarke to send out a group email about this.
March 2022
Date: 03-02-22. Venue: Aviator, Sywell Aerodrome. Present: Will Needham (chairman) plus 11 members. Apologies: Neill Elliott (area secretary), Kevin Lamberth, Steve Myles, Vaughn Glynn, Ian Gardiner, Tim Hawkes.

1 WN outlined events where we should make a strong showing as an area: Saturday, April 9, Classic 100 Show at Chapel Brampton. Opportunity to display and take part in a road run.
2 Saturday, April 16, Sywell Aviation Museum opening. Arrive 0900-0930. Refreshments provided. Singer and vintage aeroplanes, depending on the weather. Group email reminder later.
3 Richard Hall said Thurleigh Museum was opening at 10am on March 27 and MVs were welcome. We could arrive in convoy or individually. Peter Clarke said that the North Oxon and Cotswolds Area had cancelled road runs because it thought them to be insensitive in view of the war in Ukraine. Discussion followed and it was decided that the area secretary would contact CoM for guidance.
4 Richard Hall said the 306 Bomb Group Association was visiting Thurleigh on August 13. MVs were welcome but unfortunately taking visitors on a tour of the air base in our MVs was not possible.
5 WN said that Neill was trying to negotiate a visit to Milton Keynes Museum in May with free entrance. He had suggested a road run from Wellingbrough. Peter Clarke suggested a second departure point at Towcester for those in the south of the county and adjoining areas. The consensus was in favour of the visit and WN said that Neill would probably pursue this with a yes/no email alert.
6 WN said the Bloxham Steam and Country Fair near Banbury on June 25-26 was worth a visit. He also mentioned Newport Pagnell Vintage Event on June 4 and Bolnhurst Rally near Bedford on June 18-19.
7 Peter Clarke said volunteers were needed for marshalling and booking-in duties at Wicksteed at War (June 10-12). He would be manning a members/VIP chill-out area with tea, coffee and biscuits available and Tim Cross offered to help him.
8 John Underwood mentioned Corby Pole Fair, which was held every 20 years. It was on Friday, June 5, a Jubilee bank holiday, and MVs were welcome.
9 WN said CoM were looking for feedback regarding a carbon offsetting programme. John Underwood said our MVs were used infrequently as historical vehicles and Tim Cross added that actually they were carbon efficient as they lasted such a long time and contained fewer components that modern vehicles have. Peter Clarke said that if the MVT sponsored, for instance, a stand of trees at the National Arboretum, it would be good PR and silence some critics. John Underwood suggested that locally we could do something with Wicksteed Park, like tree planting.
10 AOB: WN said a forum on the area website where members could ask for advice on MV issues would be useful. Peter Clarke (webmaster) said our present website was not suitable for a forum but suggested that a WhatsApp group, which Neill had in mind, might be the answer.
11 Roy Sharman said there would be a transport day at Abington Park, Northampton, on June 25. It clashes with Armed Forces Day.
12 Roy Sharman said a collection at a previous SEM meeting plus money from TTS raised £100 for the Normandy Memorial Appeal.
13 Roy Sharman organised a collection for Phil from Northampton Combat Cellar who was organising a lorry-load of supplies for Ukraine. £60 was raised.
14 Tim Cross said he read in the magazine of Northampton and Lamport Railway that Ian Rivett, who helped organised military shows there in the past, asked whether the shows could be resurrected.
15 Tim Cross said he was always impressed with the quality of Windscreen magazine and asked that our appreciation of it be passed to the CoM via the area secretary.
16 WN unveiled 14 pieces of military equipment and asked members to guess what they were and who used them. They ranged from bayonets to things for unblocking rifles. The quiz was won by Geoff Baulk.
February 2022
Date: 03-01-22. Venue: Aviator, Sywell Aerodrome. Present: Neill Elliott (area secretary) plus 7 members. Apologies: Steve Gascoigne, Vaughn Glynn, Ian Gardiner, Tim Hawkes.

1 Peter Clarke read out a message from area founder Steve Gascoigne, who now lives in Devon and gave a brief account of how the area was started and its part in helping save Bletchley Park from developers.
2 NE gave his review of 2021, another difficult year due to Covid restrictions. It was a sad start to the year with the death of long-standing member Gordon Beale. He gave 35 years of sterling service and dedication to restore many rare military vehicles, a great example to us all. He would be sadly missed. We had to wait until June and the opening of Sywell Aviation Museum for our first face-to-face meeting. Again in June a small number of MVT members attended the unveiling and dedication of a new war memorial just outside Wollaston. The occasion showed that we were far more than vehicle owners and that we are also there to represent veterans and especially those who gave their lives for this country. Not long after that the residents of Roade approached SEM and asked if we could bring some vehicles to their 100th celebration of their War Memorial. NE said he felt proud that ordinary people in the area thought of us as a group and that they would like us to join their commemorations. It was always a privilege to join in acts of remembrance. In August Harborough at War kicked off the month with a large and very diverse collection of military vehicles. At the end of August was Tanks, Trucks and Firepower and SEM members attended and were treated to an even larger collection of tracked and wheeled vehicles. At the beginning of September the Victory Show at Cosby, Leicestershire, was a fabulous weekend. Then a fortnight later, Will and Sam Needham drove their WW2 Chevrolet C15 truck in the 75th Anniversary Victory Parade at Goodwood. At the end of September was a re-scheduled Wicksteed at War. NE congratulated everyone who helped out at a fabulous show. It was a slightly different format to previous years but we had lots of new things to offer including tank rides and Deborah the replica WW1 tank. There was no other show in the country like Wicksteed at War, a true family show which catered for not only MV owners but also the general public. NE said he had loads of really positive feedback from exhibitors, so well done SEM MVT. Moving into November we were very proud to support the Royal British Legion Poppy Appeal, spreading our vehicles right across the SEM area. Exact figures were not available from RBL but NE estimated we must have collected well over £2,500. This was followed on Remembrance Day itself with members and their vehicles attending the Service at Weldon. From there everyone set off on the now traditional road run organised by John Underwood with a visit to Deenethorpe airfield, finishing at East Carlton where John and Judith provided a very welcome late lunch. The year was topped off with the Christmas meal and Kevin Lamberth's fiendish quiz.
3 NE thanked Ian Gardiner, who was standing down as chairman due to pressure of work. He also thanked Peter Clarke (website and communications), Tim Hawkes (Wicksteed at War), John Underwood (Poppy Road Run), Roger Higgerson (Roger's Road Run), and photographers Kevin Lamberth and Vaughn Glynn. NE said it was great to see so many members mucking in to help, not just the officers, which made the area so much better.
4 Election of officers. Neill Elliott was returned unopposed as area secretary (proposed by Peter Clarke, seconded by Kevin Lamberth), Will Needham was elected unanimously as chairman (proposed by NE, seconded by John Underwood).
5 NE outlined 2022 events on the diary so far.
6 NE said he was going to start a WhatsApp group to keep members informed. This would run alongside the existing email alerts.
7 Richard Hall said Thurleigh museum was re-opening at the end of March. On August 13 MVs were invited to mark the 80th anniversary of the 8th Air Force arriving in Britain. It was hoped that up to three veterans would be there. Visitors were welcome on Sundays when the museum was open.
8 NE said ideas for talks, events etc were welcome.
9 Peter Clarke outlined plans for a members/VIP tent at Wicksteed at War where MVT members, stall holders and VIP ticket holders could meet and have tea, coffee and biscuits.